This
Chotank
Biography Ranked TOPS for Mark and Brian net audience
Mark and Brian end show's
run on Los Angeles Radio
in 2012 after winning
25 top years for KLOS
DISNEY'S MARK AND BRIAN
ROAR RADIO FLASH: Mark & Brian received a big national publicity boost in 2008. "Mother Ghost", written by and starring Mark, was bundled in a newer Red Laser format for marketing promotion with a special
high definition player. The playback unit debuted
during international glitz of Consumer Electronics Show, Las Vegas,
when the arrangements with Mark were announced.

Chotank Gives YouTube trailer on Mark's Red Laser movie
-- Click "play" arrow to begin video display of YouTube stream --
BIOGRAPHY -- UNA Radio History in the Making

As top-rated syndicated morning show personalities, Mark Thompson and Brian Phelps of the Los Angeles based "Mark and Brian Show" entertained audiences LIVE with their dauntless comedy weekday mornings from 6:00 am to 10:00 am PCT on radio for 25 years. Jump to the KLOS Internet site.

Mark Thompson appeared in "Reba" TV sitcom as marriage prospect for Ms. McEntire. The episodes ran again on Country Music Television as recently as October 8 & 9, 2014 during the "Reba McEntire" program block, 5 to 7 pm, EDT.
The M&B duo was introduced in 1986 by a mutual friend who was working at radio station I -95 in Birmingham, Alabama who felt that their personalities "might click". Deciding to heed the friend's advice, Mark and Brian each gathered bags of audio cassettes, locked themselves in a hotel room with coffee, junk food and a tape player and proceeded to sit through an entire evening listening to each other's work. Management at I -95 agreed to give the pair a chance. In no time, the radio team was racking up solid ratings. After a year at the station where they reached number one status, Mark and Brian left Birmingham in September 1987 and ventured west where as they say, "the rest was history!"
See M&B interview on turning Shoney's, Frisch's (and Bob's) Big Boy
into Elvis Stunt for KLOS Anniversary Radio Show during
M&B Celebration at Caesar's Palace in Las Vegas
Built on the foundation of friendship, comedic timing and mutual respect, the "Mark and Brian Show" would have been heading into the 26th year on the air from Los Angeles if they had not announced their departure from KLOS. Already two-time winners of Billboard Magazine's "Air Personalities of the Year," Mark and Brian are also credited with achieving the radio industry's highest for on-air stars -- The National Association Broadcasters' Marconi Award.
The former duo won an Emmy Award for hosting an Andy Griffith TV Special which aired

on the Fox network. And, they starred in their own NBC television show. Therefore, Eddie Foote predicted long ago that because of Andy Griffith connections and the sagging, shelf-load of Radio and TV awards, they were expected to show up "any year" for the famous University of North Alabama George Lindsey Film Festival. That year finally arrived in April 2004. Mark Thompson attended The 7th annual George Lindsey UNA Film Festival in Florence, and thereby, he promoted a new joint certificate program with UCLA for Dr. Foote's majors. But, Mark came especially to the University of North Alabama hometown to show his own independent film, "Mother Ghost". UNA students, native home media professionals and local Shoals-area fans and friends of Mark converged on the locally-famous and nostalgic Shoals Theatre to see the North Alabama Festival premiere of "Mother Ghost".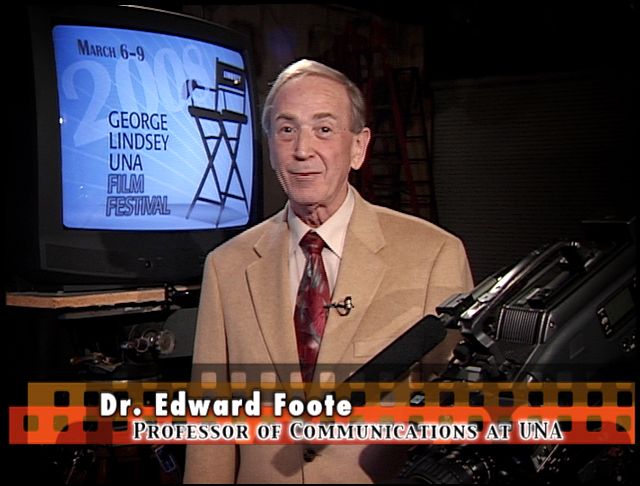 Eddie Foote is featured on Valley's CW in 2008.
Commercial was shot at old WOWL
radio/television studios, built in
1957 for Florence/Muscle Shoals area.
Mark Thompson became DJ here in 1972.
Dr. Avon Edward Foote, one of several UNA and UCLA instructors in the UNA/UCLA Joint Certificate in Film Program, rubbed shoulders with Mark's North Alabama fans for the screening, and now loudly proclaims the Hollywood radio star's film future to his students. Foote talked of fond recollections of Mark's mother when he took guests, including Jess Daily from UCLA Archives who is Hollywood associate of Dustin Hoffman and Norman Lear, to see Tonya S. Holly's Alabama movie, "When I Find the Ocean". The movie has been available on DVD since 2008.
Bob Blume, the Footes' Shoals friend, went with Jess and Eddie after wives Bets and Dottie departed for home. A few nights earlier, Dottie with granddaughter Niki Foote/Foot of Roanoke, Virginia, had been at a head table for the regional premiere of the film at the Shoals Marriott Convention Center near where the Shoals Chamber of Commerce is now located (see film advisory from Chamber at Red Laser Link). But, Jess, Bob, and Eddie attended the showing of Holly's "When I Find the Ocean" at the same theatre where "Mother Ghost" had been introduced by Mark Thompson to the Shoals. At dinner in Tuscumbia just doors from the old Bijou Theater, which closed forever at the beginning of the sound film era, Foote had told all his guests about Dottie's and his own brushes with Mark's "Mother Ghost". The Footes think -- with a smile -- that the Shoals Theater and other Shoals' film locales, such as the old Bijou building, are haunted since the Shoals Theater showing of "Mother Ghost". That should make Holly's hair stand on end.

He is in the Jailhouse Now
But if "Mother Ghost" doesn't do it for Holly, Mark's newer movie is waiting on a Hollywood Movieola. Move over "Mother Ghost" for 2:13 The Movie, with an Official Film Website at www.213themovie.com . Mark Thompson's parents had lived at 213 Duncan in North Florence, Alabama.
Kathryn Tucker Windham was in the Shoals a few years ago, but she did not speak on Ghosts during run-up to Halloween. Instead, she played the musical comb with
Professor Bill Foster on banjo and
told her University of North Alabama audiences
many famous family stories. Kathryn's stories are often heard on
Alabama Public Radio, National Public Radio and published in her series of books about Jeffrey the Ghost.
A film about Kathryn won top honors during the
George Lindsey UNA Film Festival.
Ernest Borgnine on his second trip to Muscle Shoals, Alabama, joined Mark Thompson at the 2004 Festival. Friends Borgnine and Lindsey are long-time "pals" and Ernie had come back to the Festival to put world attention on the Shoals. In 1992, "Current Affair" went to Jasper, Alabama, to give us a lasting video history of the friendship between Goober and Ernie. Borgnine is best known for his talented work in "Marty", "The Dirty Dozen", and "McHale's Navy", but he has starred in hundreds of other films and television shows and won many awards for his work, including a legendary Academy Award for "Marty".
The "MARK AND BRIAN SHOW" had been syndicated live from (95.5) KLOS-FM, a Disney station when Mark and Brian were hired, to Birmingham, Portland, Sacramento, Seattle and many other cities. The Walt Disney Company announced several years ago a merger of ABC Radio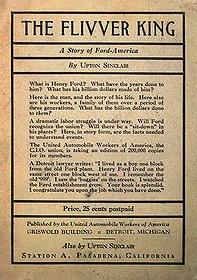 with Citadel Broadcasting Corporation of Las Vegas. The former Disney stations have moved more recently into Cumulus Media ownership after its take-over of Citadel. The MARK & BRIAN program's distribution continued to change after the mergers affected station line-up. As Wi-Fi peaked, KLOS on-demand streaming of MARK & BRIAN expanded. And KLOS personalities held local fundraising events -- such as one given in Pasadena with sister station KABC.
On any given day, the top names in music, sports and entertainment frequently joined Mark and Brian live in the studio or make call-ins to the show. Among those who visited their digs in the early years of the show included Scott Bakula, David Spade, Michael York, and Billy Idol. Such star power as Tim Allen, Billy Crystal, Tom Cruise, Sir Anthony Hopkins, Mel Brooks, Jason Priestley, Stone Temple Pilots, Graham Nash, Dick Van Dyke, Mike Piazza, Walter Payton, Jack Palance, Anne Rice, Martin Landau, Pete Townshend, Charlie Sheen, Tina Turner, Black Crowes, Luc Robitaille, Tony Bennett, Marilu Henner and Chris Isaak to name a few from the early years that signed their guest book in the KLOS studios.
Every morning, the show took on a shape of its own. Often, Mark and Brian's spontaneity lead them to outrageous man-on-the-street skits, episodes of "Freeway Love Connection," remote broadcasts, comic "bits" by the duo and other members of the morning program team, "Miniature Theatre" bits and listener call-ins offering various unique, peculiar and humorous talents. The fellows even allowed for more serious moments including a call from a brother confessing his homosexuality to his sister, a child wanting to reunite with an estranged parent or a nervous young man proposing marriage to his girlfriend. Because Mark and Brian are open with their feelings and personal lives, listeners were made to feel as though they are part of the "Mark and Brian Show" family.
Mark and Brian didn't limit their exposure to the four hours they share with the audience on the air. The duo provided listeners with a myriad of events, including "Mark and Brian Drive-Ins," the "Mark and Brian

Day Before Thanksgiving Day Parade," "Mark and Brian's: What Would You Do For Superbowl Tickets?" and their biggest show of the year, "The Mark and Brian Christmas Show," in addition to various advance private film screenings and listener appreciation events, such as "Chic Night" and "Dude Night." They encouraged listener participation and involved themselves in scores of charity benefits including their own "Mark and Brian Pet Adoption Day" and the "Annual KLOS Christmas Tree Drive." The team put together a charity CD of "favorite moments" from the show, titled, "Mark and Brian: All of Me," which benefits the Mark and Brian Scholarship Fund and the KLOS Food Bank.
Their daily encounters with listeners and staff, coupled with their own ambition came in handy during the production of their short-lived, prime-time series for NBC, "The Adventures of Mark & Brian." Juggling both radio and television proved to be very chaotic. However, Mark and Brian still maintained their high radio ratings throughout the experience.
Returned in February 2015 after Brian Williams announced as call-in guest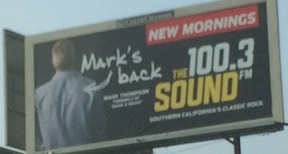 Mark Thompson, originally from Florence, Alabama, attended the University of North Alabama and claims he gravitated to radio by starting at North Alabama's WSHF in the Shoals, (Huntsville-Decatur-Florence DMA), because he "couldn't do anything else." As a high school senior Mark moved up to work for Richard Biddle at WOWL Radio. Rick Shayne was WOWL Radio's Program Director during Mark's employment and later a famous country-music programming consultant with Rusty Walker,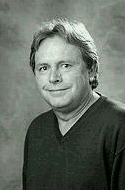 Rusty Walker
2010 CMA
Director-At-Large

whose firm has home offices in Burnsville and Iuka in Tishomingo County, Mississippi and a secondary company location in Phoenix, Arizona. Walker's legal name is Sammy Darwin, 1971 graduate of Corinth High School who started his radio career with jobs in Corinth, Tupelo and Iuka before moving on to North Alabama. At WOWL, Florence, he was first to instruct new employee Mark Thompson on running Biddle radio broadcasts. Darwin [Walker] married the daughter of Iuka Mayor Jackie Bryant and Burnette Medley Bryant. Both graduated with Eddie Foote from Iuka High in 1955. It is probably because of Walker's company -- Rusty (in picture) is a Director-At-Large of the Country Music Association -- that Joel and Ethan Coen put the local Tishomingo County radio station in "O Brother, Where Art Thou?" at Burnsville and included Pickwick Lake flooding north of Iuka in the movie's plot.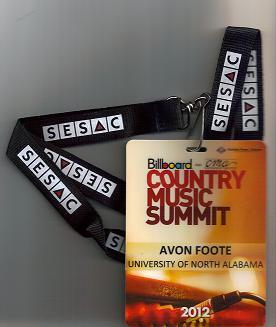 Dr. Avon Edward Foote Attended 2012
Nashville Summit to Honor
Rusty Walker, Willie Nelson
and Waylon Jennings
Billboard Magazine, which bestowed honors on Mark & Brian, has named Walker "country music consultant of year" seven times. Did that information from Billboard motivate the Coens to choose northeast Mississippi for the station's fictitious location? We know they decided to shoot the scenes, including station exteriors, elsewhere in the state to give the movie's Burnsville area a realistic but disturbing, flat Mississippi Delta appearance. But, the 400 Mississippians who live in Burnsville Bottom, extending east along Norfolk Southern Railway from downtown to Walker Switch already knew Burnsville "is flatter than a flivver" even though Woodall and Turnpike Mountains are only a few minutes away by auto (See promotion art from O Brother Concert for movie's flat-out look of road and railroad. During the publicity buildup for the movie's release, the Coens with T-Bone Burnett as music producer backed a spectacular benefit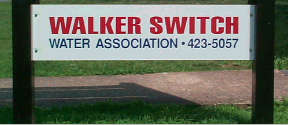 Concert in May 2000 at Nashville's Ryman Auditorium. Bluegrass, country music stars from the soundtrack were featured.) Walker's business address in Burnsville has been listed as both 38 and 190 Gross Avenue, 38833. Click to see official Mississippi State map showing location of Gross Avenue, which the map identifies as "Cross Avenue", terminating at the Burnsville Cemetery Road, west of Mississippi #365.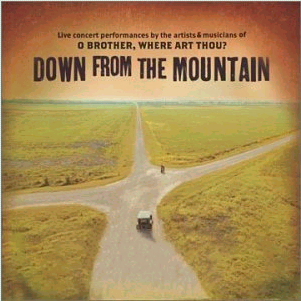 Flivver with smoking exhaust pauses before
turning toward Walker Switch rather than
face stalling on grade of Turnpike Mountain?

Google Maps, Terrain option, for 2009 show
"Turnpike Mountain Road", off "Eastport St.",
two blocks north of "Foote St." in Burnsville
and west of Tennessee Tombigbee Waterway
Shayne could remember personal "escapades" by Mark during his "OWL Radio" years. Shayne said that Dick Biddle, who had hired Shayne in 1971 right off Sand Mountain, considered Mark's professional attitudes outrageous, but Dick changed his assessment after Mark's great success in Birmingham radio. Mark and his wife Lynda have three grown children in Malibu, Burbank and Pasadena -- Matthew, Amy, and Katie. Joining her dad in his new 2015 Hollywood radio show, Katie is fast developing her own fan base that may be followed in the social media. In Mark's spare time he still enjoys baseball, tennis, and riding his Harley Davidson more than "sulfing" the California-to-Carolina mobile scene. "But Katie" keeps him posted anyway Facebook to Instagram.
[2007 comment from Eddie Foote (born 1937 in Soggy Burnsville Bottom): Rick Biddle, son of Dick, put his family's flagship WOWL Radio on an FCC educational radio FM channel assignment at Burnsville. Biddle's "Fun 91" is on 91.9. Since his commercial stations originate from offices and studios in Iuka, overlooking old Jaybird Park on Front Street, he should be,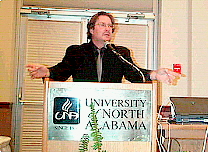 Stephen Root
at UNA, April 2000
Stars as Radio Station Mgr.

not actor Stephen Root, the real manager of the Tishomingo station in "O Brother, Where Art Thou?"

As he did later with Rusty Walker, Buddy Bain sparked my interest in radio when he put me on-the-air at WCMA, Corinth, to announce a record he was about to play in 1951. I was 14. Nearly three years later my determination to do radio maxed-out in a hot Iuka summer sun while pressing my ear close to the Hodges Cafe entrance to hear the first Elvis record from Sam Phillips. Standing and leaning into a wooden screen door from the Front Street sidewalk, I heard my jukebox debut of "That's All Right" before continuing a short walk to V. J. Elmore's 5 and 10 (Alabama/Mississippi store chain that was a small community version of Woolworths). By focusing memories on that day, I still see the fading Hardin's Bread sign embossed directly into the metal screen of the rickety frame.

Pirate radio transmissions started within a few months in 1954 - 1955 school year, using mailorder Progressive Radio Edu-Kit gear, ordered from a "Science and Mechanics" magazine advertisement. Power increases for wide-range coverage of several miles in Iuka was the first AM broadcasting in county of Tishomingo. I had tried earlier shorter-range, legal AM transmissions with the Microvox Wireless Microphone from Johnson Smith Company, Detroit, Michigan, before building Edu-Kit circuits and a Realistic regenerative radio from Radio Shack modeled after Lee de Forest's invention. Several improvements and other electronic devices were purchased during college study in Electrical Engineering/Electronic Physics, starting in summer 1955. Knight Kits from Allied Radio, where I bought later that year a second Microvox mic/transmitter for testing in the dorm, had just introduced their own wireless device in May as I prepared for relocation to Starkville.

When I arrived at Mississippi State for classes the following month, I found a fully-equipped radio studio on the top floor of Lee Hall. Even though the huge "Old Main" student dorm was immediately adjacent to the studio, President Ben Hilbun turned down my face-to-face request that he make it available for student radio production, that included planning to distribute the campus radio signal to all of Main Dormitory. He suggested instead that before I meet with Joe Phillips' employees at WSSO and the Bernie Imes team at WCBI, I should go on down the State College Drill Field to survey The Mitchell Memorial Library music listening rooms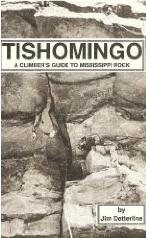 Rare Book by
Jim Detterline - Link
Rocky Mountain
National Park Ranger

and music collections as possible resources for radio program recordings. He added encouragement by pointing out that Memphis broadcaster Hoyt Wooten, who had his studios in the Peabody Hotel, had graduated at State with an engineering B.S. degree in the 1920s. I called on Travis Palmer at WSSO but found that Wilbur already had the record librarian's job totally organized for all Starkville commercial radio, and Palmer disappointed me with his own opinion that Wilbur didn't want a student volunteer's help. At WCBI, Columbus, staffers said that WACR, the other station in Columbus, might need me for parttime dj at their Macon station if I could afford to buy a car.

On a visit to Iuka I shared my college blues with Gene Jourdan, one of my very best friends. Gene convinced me that Mississippi Southern College, where he was a student of business and banking, would be a good match for all my radio ambitions. So with the visions of college radio success at Mississippi State blocked and with the encouragement from my Iuka friend, I transferred in January 1956 to "Southern Miss" in Hattiesburg where campus WMSU had pioneered student radio in the state. And, where I would meet Elvis in July in the WBKH old downtown studios just as I started a professional radio dj career with the support of my college roommate, Norm Schneider from Prichard, Alabama, a suburb of Mobile. Amazingly, the Hattiesburg dj beginnings had included a visit from the King of Rock to promote his Hound Dog/Don't Be Cruel RCA 45 rpm record. Classmate Lynda Lee Edmondson from Iuka (who married Charles Kay and lived many years in the Persian Gulf) remained my experimental station's number one fan, giving me infrequent reports on the strength and quality of the Tishomingo home signal. Lynda's Uncle Sam Daniel and family lived just three doors South on Wilmuth Street from my parents. While she claimed to listen to pirate radio from Paul and Inez Edmondson's family home on Highway 72 East, Iuka, I have believed since 2015 that most of her listening came from her Uncle's home on Wilmuth Street, Iuka, only quarter mile away from my bedroom radio studio.

Transmission testing ended forever in 1958 after I became alarmed that the Federal Communications Commission might learn from international students at Florence State College of my on-and-off pirate station. My two Cuban roommates -- Frank de los Reyes and Guillermo "Titi" Rodriguez -- had begun asking technical questions about radio broadcasting in the US after Titi visited in my parent's home on North Wilmuth Street in Iuka and got to know some of my other friends. One of these friends, Judy Holtsford, who later would edit the Corinth paper for The New York Times, was the daughter of the local newspaper publisher. Her father had a long-term interest in radio station development for Tishomingo County. I knew Titi's brother-in-law was with Castro's forces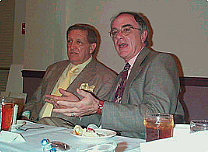 George Lindsey
at UNA, April 2000
with Dr. Garry Warren

in the mountains of Cuba, and I was unsure of his motives for needing to know. I thank Donna Hickman -- Shoals teacher and journalist who has studied Army Public Affairs at Fort Meade, Maryland and in February 2010 is in Iraq -- for asking me how I got into Shoals radio announcing when she interviewed me for an article on Sam Phillip's WJOI and Muscle Shoals music. To see Stephen Root -- the Tishomingo Radio Station Manager at Burnsville Bottom in "O Brother, Where Art Thou?", released in 2000 -- CLICK HERE for more University Film Festival Photos by Eddie Foote of Root; Jay KLOS, Huntsville and Florence, Alabama, businessman; Tonya Holly, Cypress Moon Productions; George Lindsey; "Lindsey Junior"; Garry Warren, UNA Dean; and others including Alabama Film Office officials at Film Festival in April 2000. Bobbie Hurt, founder of the George Lindsey UNA Film Festival, is a first cousin of Jud Phillips' wife Dean.

Oh, by the way, Jerry Phillips -- Sam Phillips' son who owns and runs the radio stations in old WJOI building on Sam Phillips' Street in Florence -- now lives on Pickwick Lake at Eastport in Tishomingo County just across Eastport Slough from Rusty Walker's. Since her 2010 marriage, Walker's daughter --

teacher Nikki Darwin Clark who is pictured -- has moved to the family's Eastport lodge with her attorney husband, who is Hollywood writer for famous network TV series. Was the movie's Flivver driving on via Walker Switch and Iuka to Eastport in 1937?]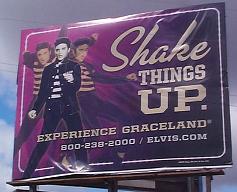 Billboard in Tishomingo County at Burnsville
Close by Little Yellow Creek,
March 2010
Chotank Gives Tishomingo Radio Station Recording Clip from Movie
-- Click "play" arrow to begin video display of YouTube stream
with Soggy Bottom Boys at Burnsville --
Planning an O Brother Still-Country Radio "Rock Reunion"
to help Rusty Walker Shake Nashville
following his reappointment to CMA Board in 2010
Rusty and Reba McEntire became real life-long friends having met as young entertainers, and
Mark Thompson became her TV love partner during 2nd season of Reba sitcom.
Read PDF file from Country Air Check with
Rusty Walker's Comments when inducted into
Country Radio Hall of Fame, 2012




I'm lookin' for some old-timey material.
People can't seem to get enough since
we started broadcasting it on the Pappy
O'Daniel Flour Hour.

    (Tishomingo Radio Station Manager for "O Brother Country
     Radio", WLZY, Burnsville, Mississippi, 1937)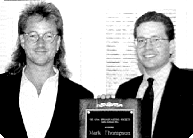 Disney's Mark Thompson receives an Honorary Lifetime Membership
in the University of North Alabama Broadcasting Club/Society
from UNA'S Greg Privett, chapter president,
who also served as Clinton White House intern. Greg Privett later worked in TV news for the CBS affiliate in Huntsville, WHNT,
which was The New York Times station for North Alabama until 2006. When a student of Foote's at UNA, Privett produced Roar Radio News and wrote news headlines for this BBC Networking Club website, which celebrated its
19th Anniversary on 15 November 2014.
Brian Phelps went to Illinois State University where he toured with a comedy group for three years which guided him into writing and producing humor. Brian is single and enjoys skydiving and cruising on his Harley Davidson.
Daily, Mark and Brian remain loyal to their long time fans while continuing to gain a newer and broader following.
Listen to Mark and Brian archive shows from Los Angeles? Contact KLOS, Disney's once-owned FM station in California. KLOS is sister station of News-Talk KABC (790 AM). The ABC Television Network -- that is still part of Disney -- is network home of CMA Awards and the new "Nashville" TV series.
The information on Mark and Brian was first prepared at Disney's Los Angeles station and reviewed by Dr. Foote with Mary and Luther, Mark Thompson's parents of Florence, in the Pine Street MultiMedia Lab, Communications Building,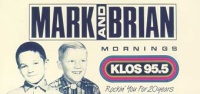 University of North Alabama before their deaths. Since that important Florence meeting by Dr. Foote with Mark's parents, Mark's friend and WOWL Radio program director -- Rick Shayne -- has been inducted into the Alabama Music Hall of Fame in Muscle Shoals, and Mark's parents -- Mary and Luther -- have become characters in his movie, "Mother Ghost". The historic Disney station information on Mark Thompson has been revised frequently since first appearing on Chotank.com, but his associates' connections to the Coen films were not added until 2008. Thornwood þublishers claims British origins for Chotank.com because it launched in November 1995 as a BBC Networking Club member site on the Worldserver, operated by Pipex, Cambridge, England.
In time for Foote's May 2006 visit to London, the Science Museum, Exhibition Road, London, placed historic 1994-95 BBCNC E-mail documents sent to Foote at unaalpha.una.edu by BBC Education into Museum digital and vertical file collections. Shortly before Dr. Tilly Blyth, Curator of Computing and Information for the Museum, commenced correspondence with Foote in September 2005, she had told an interviewer, "I'm in the enviable position of being able to identify and acquire significant computing items for the National Collection, but that also means you have to develop a strong sense of items that are culturally and socially important, not just technological firsts or breakthroughs. It is fascinating to try and identify contemporary items . . . that will engage our audiences and evoke meaning and stories from them in the future." She wrote Foote that she believes the BBC E-mails to him will be "of interest to future generations". [You can find the complete interview with Blyth in the Autumn 2005 issue of the Museum of Computing Magazine from UK. Lead article in this issue is "Computers in Film".] The documents donated by Foote are kept in the same building in England where exhibits of the Fleming Diode valve, the de Forest Audion tube, and Baird's mechanical television receiver are on public view. The Science Museum is situated near the Victoria and Albert in a famous museum complex.
During Foote's trip, he attended the Science Museum's special exhibition, "Pixar: 20 Years of Animation", organized by the MOMA from the archives of the Pixar Animation Studios. Disney had announced in January 2006, that it was buying Pixar, and Disney under Michael Eisner had released all the films highlighted in the 2006 New York and London exhibitions. Steve Jobs relinquished his leadership of Pixar in May 2006 after heading the animation company for 15 years, and a new Disney CEO then announced that Jobs was becoming a board member of the parent Disney. During this time, Foote sat-in on London lectures by famous BBC, ITV and British movie animators at the Science Museum, London. One educational talk featured the underwater animation team for "Harry Potter and the Goblet of Fire". The film's lead London artist and the London-based producer of the Potter film segment participated in the presentation, that the Science Museum titled, "Walking with Monsters to Harry Potter". Mike Milne, head of computer animation for Framestar CFC, with help from animator Max Soloman, explained that as Europe's largest animation company, CFC employs around 250 animators on its largest film contracts. The Milne/Soloman lead team, responsible the underwater action scenes from the 3rd-annual, Potter film worked first on a Discovery Network/BBC joint series, "Walking with Dinosaurs". This internationally famous series spawned another Discovery special on dinosaurs that included exteriors shot in North Alabama at Dismals Canyon using students from UNA. Framestore CFC has won "an unprecedented 11 Emmy awards in the United States", according to Science Museum promotion literature. The Discovery Network -- founded by John S. Hendricks, history graduate of University of Alabama, Huntsville -- offers a DVD set with North Alabama footage. A different DVD set from Discovery features Milne's explanations about the London production on disc two. The Milne two-disc pack is available from the Discovery website store for $29.95. The New York Times reported, 4 March 2007, in the Arts & Leisure section on plans for Pixar as Disney purchase of its rival reached a first-year anniversary. All Harry Potter movies released before 2010 have been shot at Warner Brother's Leavesden studios in Britain.
Roar Breaking News, 17 March 2011. Discovery Channel filming at
Dismals Canyon April 25th through May 12th.
Read story at Dismals Canyon website.
Foote has also visited Ealing Studios near London. Ealing is the world's oldest film studio. UK Film Council web pages give important credits to Ealing for the 2011 British film, The King's Speech. The Council credits list shows "Production Facility: Elstree Studios, Ealing Studios". Eddie Foote has photographed exteriors of older sound stages and new construction to revitalize the studio at Ealing. During visit to Ealing in May 2006, he toured the new £11.5 million (GBP) digital film Institute next door at Ealing, Hammersmith and West London College. He talked of opportunities for educational cooperation with The Ealing Institute of Media / EHWLC administrators and faculty during UK trip with Dr. Dorothy Gargis Foote. Administrators and faculty explained to him the BBC's participation in the Institute approvals process. Facilities design makes it a designated, state-of-the-art Centre for Media Excellence. The famous Studio and the BBC-affiliated Ealing Institute overlook historic Ealing Green.
The BBC owned Ealing Studios from 1955 to 1992 but dumped Movieola film with the arrival of the digital film and broadband era. The Coens shot their second movie in Mississippi in 2004, when they remade "The Ladykillers" with a new Deep South plot and African-American music. T-Bone Burnett who assisted the Coens with the music in "Oh Brother, Where Art Thou?" produced the brothers' soundtrack music once more. Ealing Studios had produced "The Ladykillers" film in Britain in a 1955 release that was destined to be the last for famous Ealing comedy films starring Alec Guinness. It has been called one of the the best British films ever, and the title still gives goosepimples to home viewers. Coinciding with opening of the film's publicity in 1955, the BBC snapped up ownership of the famous studio.
---
---
---
Foote/Foot Note for readers interested in the BBC history of chotank.com : Until a few years ago, the GOOGLE "Groups" archive had a Monday, December 11, 1995, 12:00 am, E-mail to uk.announce from Avon Edward Foote, the University of North Alabama, who is also known to answer to "Eddie" among friends and family. The UNA posting at GOOGLE "Groups", that is no longer available, described Chotankers as "U.S. news from an University station, Disney material never before circulated, and family history." Two earlier E-mail messages, dated 19 November 1995 and 27 November 1995 and sent from a.foote@bbcnc.org.uk, have also been deleted from the GOOGLE groups archive. On 16 December 1995, Russ Corey of TimesDaily, the Muscle Shoals' paper that was owned and operated by The New York Times, reported startup of Chotank web site on the Pipex server in Cambridge, England. Corey wrote,
"Foote believes it is the first [UNA] site . . . ."
---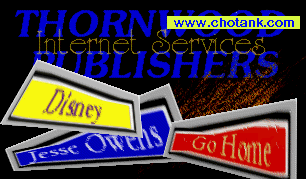 Buttons above in THORNWOOD logo are Clickable


Chotank presents O Brother, Where Art Thou
Official Movie Trailer from 2000
-- Click "play" arrow for YouTube stream of O BROTHER --
CHOTANK TITLE: O Brother depicts Pickwick Lake flooding in 1937 as surge
hits Northeast Mississippi and high water reaches Alabama towns
When the Coens shot O Brother in Mississippi, Sam Haskell,
William Morris Agency -- Hollywood, represented George Clooney
and Dolly Parton.
Read Haskell's 2009 book about his mother and family
and his William Morris career that ended in 2004.
The Ole Miss graduate grew up in Amory, near Tupelo.
Pam Long, UNA graduate, Florence, was scriptwriter-client of Haskell.
He guided several other Miss America hopefuls thru Hollywood hoopla.

Click -- Sam Haskell Has a Cheerful Message