Chotank.com > Tom Stribling's Prize > Where you are
A TOWN REMEMBERS STRIBLING'S PRIZE
by Avon Edward Foote, University of North Alabama
Presented at The Annual Birthday Celebration honoring T.S. Stribling,
Richards Educational Center, Florence, Alabama, March 3, 2002
(c) Copyright 2002, All Rights Reserved
In the late 1930's Lowell Thomas asked Pulitzer Prize-winning author T. S. Stribling what kind of author he was. The radio show guest responded "an Ironist". The smooth-throated commentator and world traveler jibed, "You mean a man who irons pants?" Stribling quipped, "No, a man who spanks pants."
Florence, Alabama, has still not forgotten its trip to the wood shed with author Tom Stribling, a lanky Tennessee youth when he studied at the State Normal College in Florence, Alabama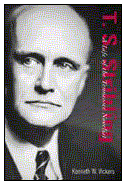 at the turn of the century. Until Tom Stribling chose Florence as his setting for The Store, she had always been the queen of small cities to her residents. Florence folks liked to look down their long courtly-street noses at the smaller, but sometimes older, sister communities across the Tennessee River to the South. When compared to the natives of this Northwest Alabama city, the hill men and women near North in Tennessee and near West in Mississippi were as decidedly inferior as an ordinary rabbit dog would be to a "rag-jist'-tarred" blue-nose coon dog buried near-by in Coon Dog Cemetery.
After Tom Stribling's The Store appeared 70 years ago, somehow it was never again the same in Florence. Folks here liked to look back at the war. Florence's sons had fought valiantly at Shiloh, Manassas, and Atlanta returning to the lead in dealing with the new realities. 'Til Tom Stribling that is. He destroyed the myth that a superior society could come out a that vicious war blessed with civility and morality. Post Civil War Florence was held up to the scrutiny -- Should we say ridicule? -- not just of Alabama, Mississippi, and Georgia, but the whole nation.
Heaven forbid, the whole world. Hadn't French and British readers and critics found his story of the changing South set in Florence's glaring defects to be a magnificent achievement in American literature?
The Store is a history of Miltiades Vaiden after the Civil War. Vaiden distinguished himself as a Southern officer at Shiloh, earning honorary title of Colonel. Soon after the war, J. Handback, a cotton merchant, went bankrupt, reneging on a considerable debt to Vaiden and leaving the Colonel almost destitute. But, two decades later Colonel Vaiden concocts a dishonorable plan to recover his losses.
Stribling deals graphically with the social diversions and foibles of this North Alabama city whose citizens in 1920 registered 12,702 on the census. Among the most notable are: Ponny -- the Colonel's fat and childless first wife; Sandusky -- a crippled [Stribling's term] legal aide who will soon begin study to be an attorney; Jerry Catlin -- a mystical and unsuccessful young student at the State Normal School in Florence (probably a self-portrait of Stribling although he denied it); Republican Postmaster Landers who sometimes has visions; Gracie -- Handback's mistress and her son; Alex Cady -- the poor-white sharecropper; and finally, the soon-to-be bride of Mr. Vaiden -- his new second wife is the young daughter of his old flame.
Florence citizens threatened a libel suit soon after the book appeared. Many here felt Stribling had maliciously drawn them into the novel. So aroused became the citizens that -- the story goes -- the Florence and Tuscumbia libraries refused to circulate the book. Determined readers in Florence would have to join the Literary Guild or drive "cross the riber" to Sheffield, where the librarian kept an extra copy of the the book on hand under the desk just for leading society-ladies to peruse without recording their names on the circulating book's check-out card which other borrowers could then review.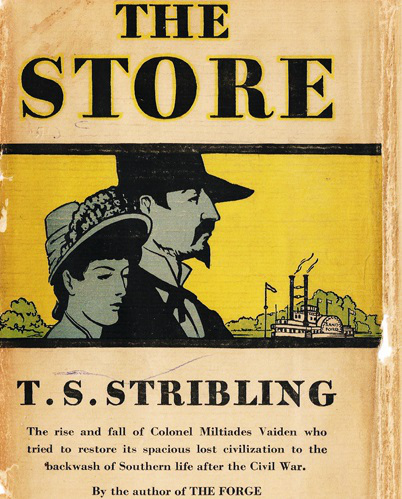 The former Florence Normal student never denied the allegations of using Florence citizens as character models. Although in a never published, 1933 letter from New York, he did acknowledge self-imposed limitations on the nature of the verbal facsimile: "I tried not to be precise in my description of Florence and the surrounding country because I was afraid somebody would not like for me to be writing precisely about his or her place, so I left it a little vague -- when you come to try to put your finger on the exact place where the action took its course."
Stribling had learned his lesson several years before while still writing short stories, setting one in Philadelphia and giving the correct address of one of his characters. "The person at that address was highly incensed, although I said nothing disrespectful in the least. This person didn't want to be pointed out."
In the same 1933 letter, he recalled his inspiration for The Forge, which preceded The Store in the Stribling trilogy. T. S. Wrote, "My mother was born at Gravelly Springs, Alabama sixteen miles Northwest of Florence and I spent my summers with my maternal grandfather's family ever since I was a baby until I was sixteen or seventeen years old. Nearly every one of the incidents of The Forge was told to me by my uncle, Lee Waits. He was a fountain of perpetual entertainment all through my childhood and adolescense. My mother also supplied endless material for the book, talking to me and telling about the Civil War days."
But after the Florence citizens with anger and fervency attacked the trilogy, especially The Store, he found it necessary to start his next book, The Soundwagon (1935), with this disclaimer: "The author of this book need hardly state in a story of this description that he has not copied any of the characters herein described from life. On the contrary the characters are so generalized that one could say much more truthfully that life has copied the characters in this novel."
In an interview published in the May, 1932 issue of The Writer, Stribling acknowledged the "reality" of his fiction. He told interviewer Ulysses Walsh, "My latest novel, The Store, which was handed just a few weeks ago to my publishers as a follow-up to The Forge deals with much the same situation as that going on right now in Alabama, where Negro

share croppers' are being unmercifully bulldozed and persecuted."
A student reviewer had trouble with the idea that The Store's setting was really the town where he had chosen to attend college. He wrote, "he seems to give the impression, by his detailed account, that he is painting a complete picture of Florence. Maybe he is, but we rather hate to believe it."
But, older residents knew the sub-plots and incidents belonged here. One remembered that there had been a lynching in 1872 providing the final scene in The Store.
A few in Florence -- actually a very few 70 years ago -- were proud of T. S. Stribling and what he had done to bring fame to Florence's State Normal School by winning the 1933 Pulitzer Prize. If anyone in Florence lauded Tom, it was his former professor, Miss Janet Simpson, to whom he dedicated a 1924 book, Red Sand. Recalling his days as her student, she would write shortly before her death, "I regarded him then, as I do now, as a genius, trusting his own intuitions utterly, guided by his whims, if you might call them so, but dead sure they could not lead him astray. Life was as interesting to him as one of his own novels."
He was as selective in what he did then in college as he was in what he would write about later in life. Miss Simpson remembered him as capable of brilliant work in subjects he liked, completely ignoring all others. In her words, he became "a problem in college". She added, "Just how he passed finals in science, . . . whether his science teacher had softening of heart or whether Tom Stribling really bent to it for a short time, and learned enough to pass, I'll never know, but he graduated . . ."
After earning his diploma at the State Normal (SNS), Stribling received a law degree from the University of Alabama. In partnership with Emmet O'Neal, former Governor of Alabama, he opened an office on Intelligence Row, a short street of office buildings opposite Courthouse Square in Florence. The gnarled mulberry trees across the street in the Square guarding the entrances to the lawyers' and doctors' offices were vividly sketched in The Store.
The partnership with O'Neal ended in just eight months. Abruptly concluding the arrangement, Stribling went off to sell fertilizer -- saying that he was becoming a drummer, the term used at that time for a wholesale representative.
In another effort, T. S. had been more successful; for after graduation at SNS he had taught for a year before enrolling in law school at Alabama. A young lady in his seventh grade class, wrote in 1971, 65 years after having him as her English teacher: "We youngsters adored him. We would stay afternoons and he read to us works of Edgar Allen Poe -- 'The Pit and the Pendulum', 'The Gold Bug' -- especially did he read us tales of horror."
In 1933, most citizens of Florence, Alabama, considered The Store a horror story: more a nightmare they wished could be put aside. But the Anniston (Alabama) Star kept perspective, "Like William Faulkner of Mississippi, he has chosen to picture the South wart and all, as Cromwell ordered his artist to do; and although many so-called professional Southerners are of the opinion that the warts have been exaggerated out of proportion, his realistic approach is provocative if not altogether pleasing."
Soon after the announcement of Stribling's Pulitzer Prize, the student editor at the State Normal College in Florence, observed, "We can but wish that he had added a part of that better element which was surely present in Florence at that time."
Those in Florence who remember T. S. Stribling, still wish . . . .
And now. A PS for TS. A few in Florence still wish you had not written The Store and you had not received the 1933 Pulitzer Prize . . . .
But, many more in Florence wish THE STORE had not finally closed in 2001 nearly 70 years after you won the PRIZE!

The 2004 book cover shown above is from a Spring/Summer release published by University of Tennessee Press, T. S. Stribling: A Life of the Tennessee Novelist by Kenneth Vickers, PhD.

NEW 2006 Encyclopedia of Appalachia from the University of Tennessee Press has a bio piece on Stribling by Rudy Abramson, retired reporter for Los Angeles Times; former director of PROTECT HISTORIC AMERICA in Prince William County, Virginia; and author of Hallowed Ground, the 1996 history of Disney's America that has several paragraphs on the famous Brent Town tract near Manassas. The historic land tract was owned by Shelby Foote/Foot's ancestors, and Foote/Foot and Stribling are kinsmen. Shelby was key spokesperson for the PROTECT HISTORIC AMERICA campaign that caused Disney to back down on plans to build a history theme park on legacy Foote/Foot land.
---
Jump to Pulitzer.org: Winners of Pulitzer Prize for Novel,
1917 to 1947 -- Click
---
---
Jump to OSU Archive Photo: Winners of 1936 Olympics,
Coach Snyder and College Athlete Owens -- Click
---



The Times-Daily, Florence, Alabama, November 2001

Rogers store ends 108-year operation

By ROBERT PALMER

An Alabama landmark many believe was the setting of a Pulitzer Prize-winning novel will close its doors to the public next month. The 108-year-old Rogers Department Store downtown is closing in December, bowing to the changing patterns of retail trade.

Texas-based Dunlap Co., which bought the family-owned department store in 1998, announced the closing Friday. Kris Gass, manager of the store, said Dunlap will focus its north Alabama retail operations in Muscle Shoals and Decatur, where two Rogers stores are in malls. "We will consolidate our efforts at those stores," he said. Gass said the decision to close the three-story Florence store was difficult. "The people here are very fine, good people," he said. "We will help them all we can. It was a tough decision." The downtown store has 46 employees, he said.

Rogers opened in 1894 on Court Street. Begun by B.A. Rogers and T.M. Rogers Sr., the original one-story wooden building burned in 1910 but was rebuilt as a two-story building. In 1948, a third story was added, and the exterior was remade using concrete and steel. The Muscle Shoals store was opened in 1968 and the Decatur store in 1971. The Rogers family owned and operated the stores for 104 years. Carter Rogers, who was part of the family business until 10 years ago, said the store has a place in several generations of the community's life. "That building represents a lot of people," he said. "It has been a gathering spot for lots of people, especially back in the days when the downtown was the hub of all communication and commerce." Carter Rogers owns the Christian Book Store on Court Street, just a block away from the department store. "It's been a living business with people and employees. Hundreds of people have worked there through the years," he said. "Many had their first jobs there. "The high point for me is recognizing that it has been a blessing of God to my family and the people of the community by providing jobs," he said. "But it's part of the changing times and changing trends that things move on." The building is still owned by the Rogers family. Carter Rogers said he hopes to find a new retail business to occupy at least the first floor.

Many believe T.S. Stribling used Rogers Department Store as the setting for "The Store," which was awarded the Pulitzer Prize for literature in 1933. Stribling, a native of Clifton, Tenn., attended college in Florence at what is now the University of North Alabama. But Lindsey Stricklin, a retired UNA English professor, cautioned against identifying Rogers too closely to Stribling's story of a difficult time of transition in the Deep South. "The reason I say that is because I have never read anywhere that he said he was writing about actual people," Stricklin said. "I want people to look at it as a story of universal values, and not get caught up in a story about actual people." "The Store," published in 1932, is the tale of a man who compromises his morals to attain wealth and power. Stricklin said drawing parallels with the story and any person in the Florence area at that time only detracts from the power of the work. He said he has uncovered no evidence that Stribling was writing about a particular person.

Four generations of the Rogers family operated the business. The decision to sell was based on the absence of a fifth generation interested in continuing the family business, Tom Rogers, president of the company, told the TimesDaily in 1998. The absence of the downtown institution poses tough challenges for city officials who want to find a new retail business for the building. "I hope we can find a tenant that can be with us another 100 years," said Hester Cope, director of the Florence Main Street Program. "I hate that the day has come that you have to write this story." Cope said the Rogers family business survived the Great Depression, two world wars and the arrival of shopping malls 30 years ago. "I was disappointed that in the years Dunlap had it that they could not do as well," she said. Tom Rogers joined the new company and stayed on at the store for a short time after Dunlap bought it.

Mayor Dick Jordan said the Main Street Program and Downtown Florence Unlimited, the merchants association, will make aggressive efforts to bring a new business to the classic department store. "We need retail downtown. That's what keeps the train running in the city of Florence," he said. "Most of our revenue is derived from sales taxes." Downtown Florence has withstood the spread of malls and shopping centers. The city administration has launched aggressive beautification and enhancement programs in an effort to keep the core of the city vital. Jordan said it could be difficult to find a single retail client for the building, but it could be attractive to outlet stores. "That would bring more people downtown than a single specialty store," he said.

Originally published November 11, 2001

This copyrighted story from The New York Times owned-and-operated newspaper in Northwest Alabama -- The Times-Daily -- is reprinted here with the permission of reporter/editor Robert Palmer.
Professor Foote's UNA students won equivalent of a "College Emmy" for adapting a T. S. Stribling short story to video in 1983-84. She Had Hair Like His Sister's received $2,000 and free trips to Hollywood for the two student directors, who had been enrolled in Foote's Advanced Television-Film Production courses, Com 430 and Com 460. The production was completed by the classes of two semesters under Foote's supervision while drawing student actors from the UNA theatre program and Florence area community theatre. Professional Emmy and college national television award winners are selected annually by the Hollywood Academy of Television Arts and Sciences. University of North Alabama Professor Lindsey Stricklin arranged a national premiere of the production at Athens State University before the award was announced. Foote converted the original U-Matic 3/4 inch, edited tape to digital format; corrected color, drop-out and time base elements; sweetened selected audio tracks; and repaired technical and transitional, problem edits for the showings at Stribling's birthday celebrations at UNA in 2001 and 2003 with Professor Stricklin's endorsement.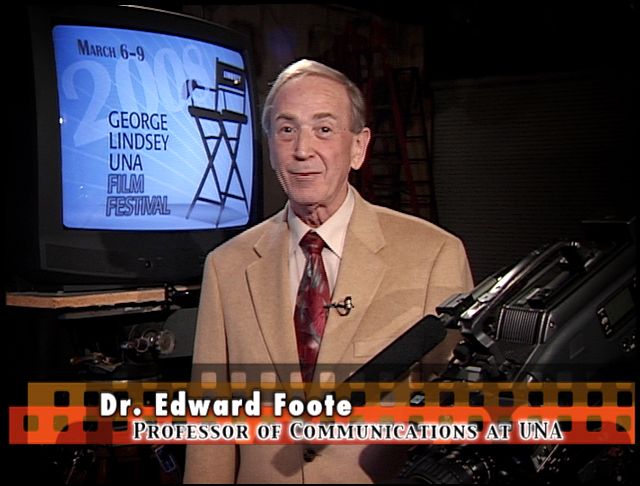 Professor Foote is one of several North Alabama and Hollywood instructors teaching courses in the new 2004 to 2006 UNA/UCLA Joint Certificate in Film. When the agreement was announced in 2004 during the annual George Lindsey/UNA Film Festival, North Alabama became the first US university to join the University of California, Los Angeles extension program. "If a student takes a full program, they will have a breadth of knowledge that is the best overview and hands-on experience that anyone can get. And what that allows them to do, both in terms of their own self-confidence and expertise, is go into film and television knowing all there is to know," Jane Kagon, UCLA Extension's department of entertainment studies and performing arts in 2004, speaking to the UCLA Daily Bruin before her promotion to departmental director. Director Kagon told The Hollywood Reporter, September 14, 2004, "The need for training that is hands-on and up-to-the-minute is absolutely critical. . . . For people who want to be in the entertainment business or who are in the entertainment business, they don't need theory; what they need to know is what technologies are out there, what technologies are coming down the track, what direction is the entertainment environment going in, and how do they participate and make a living?" On 17 June 2005 Foote and Kagon held a planning meeting at UCLA preparing the arrival of UNA students for the new joint program. She met later that day with Bill Huddleston, who coordinates the program for UNA.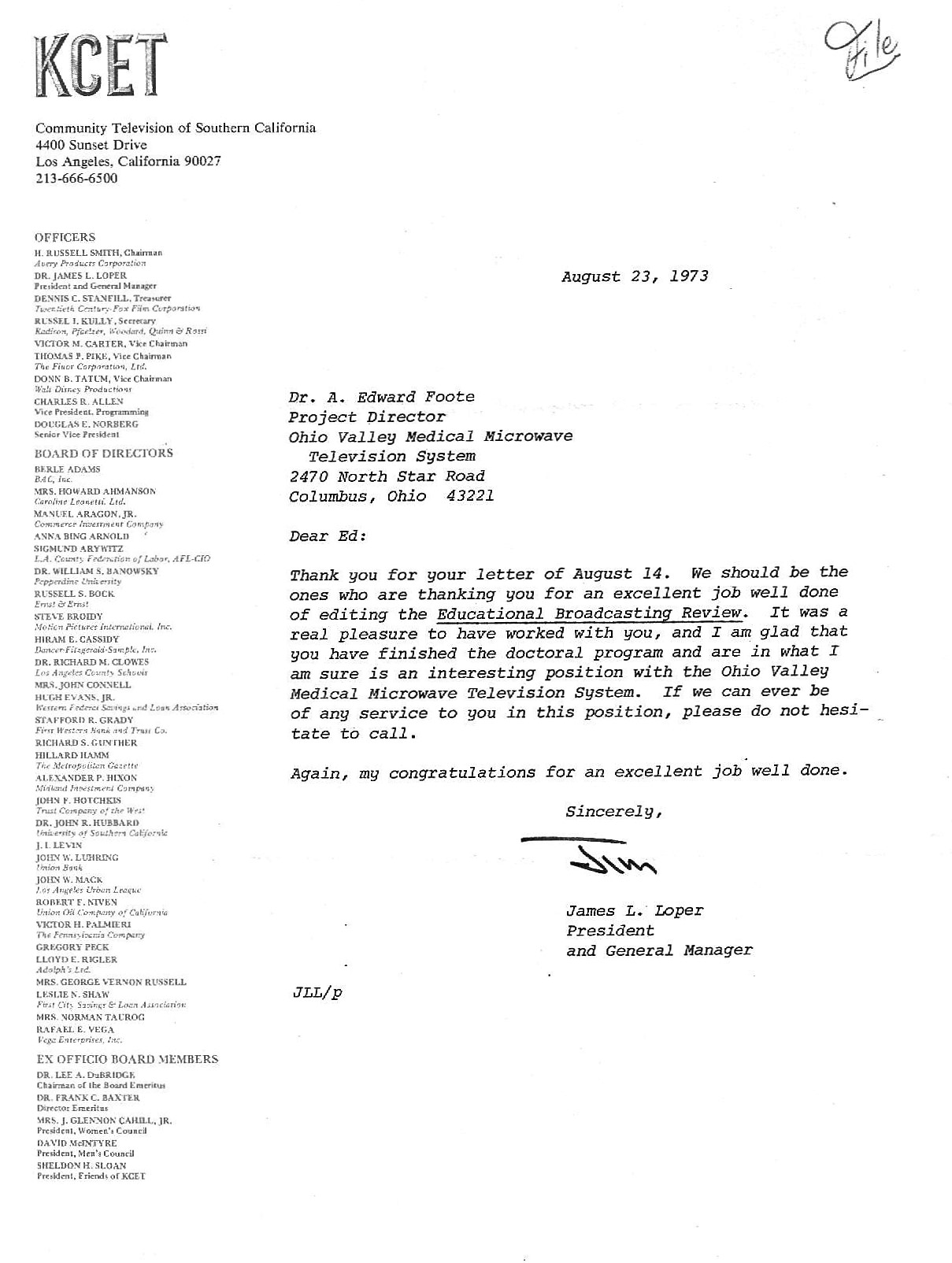 James L. Loper was Executive Director, Academy of Television Arts and Sciences, Hollywood, 1984 to 1999.
Before meeting with Kagon, Foote talked at the UCLA Faculty Club with a staff representative from the University Chancellor's Office who had invited Foote to hear actor Sir Anthony Hopkins accept an important School of Theatre, Film, Television and Digital Media commencement award. -- JUMP TO: UCLA news story on Sir Anthony at UCLA -- . After lunch at the Faculty Club, Jess Daily of the UCLA Archives gave Foote a tour of the Film, Television, and Digital Media Building and the nearby Theatre scene shop in the UCLA School. And, Daily arranged for Foote to meet Steven Rici, Ph.D., director of a new graduate program in Moving Image Archive Studies.
The Northwest Alabama Council of Local Governments (NACOLG) has received a consultant's report on the Shoals film industry, authored by Jane Kagon, (UCLA, Los Angeles: October 2005). A NACOLG 10 September 2004 press release stated, "U.S. Representative Bud Cramer (D-ALA) announced today that the Northwest Alabama Council of Local Governments (NACOLG) will receive a $30,000 grant from the Economic Development Administration to prepare a strategic and marketing plan to help develop the entertainment industry in Northwest Alabama. NACOLG hopes to outline the necessary stops to create a major entertainment industry in Northwest Alabama."
David Bergman and Anne Wurts of Economic Research Associates, Los Angeles, conducted the entertainment industry study of Northwest Alabama and submitted to Bill Matthews a first draft which Professor Foote and others later critiqued. Wurts chaired UNA group and individual community interviews during the research phase for the first draft. But, the final Report was submitted under the authorship of Jane Kagon of UCLA. -- JUMP TO: Related Shoals Chamber of Commerce News Release -- .
The report was discussed by a specially arranged panel during the 2006 Lindsey/UNA Film Festival. Foote proposed the session and helped Dr. Kerry Gatlin, Dean, UNA College of Business; Dr. Vagn Hansen, Dean, UNA College of Arts and Sciences; and Bill Matthews, director (retired), UNA Continuing Education, in putting the panel together. Matthews added Steve Viall, having just finished shooting for his supporting role in Tonya S. Holly's "When I Find the Ocean", and Viall brought fellow-actor, David "Shark" Fralick to the Festival session.
The She Had Hair Like His Sister's producer/instructor may be reached by E-mail at aefoote@una.edu. Loaner DVDs of the corrected 30 minute edit of the T. S. Stribling short story are available from the producer/instructor at UNA to schools and universities for royalty-free screenings to classes and to student or community organizations. The digitally remastered edit incorporates new original footage, being seen for the first time since being shot in 1983-84. An original edit of the awarding-winning Hollywood Academy entry, She Had Hair Like His Sister's, on U-Matic 3/4 inch, Sony videotape, and all other Hollywood Academy national/regional college winners from quarter-century ago until this year are available in the UCLA Archives, Los Angeles.