Avon Edward Foote
[chotank@aol.com or aefoote@una.edu]
(Æ or Ð or Eddie)
From old edition of Who's Who in South and Southwest
with 2009 editing for Internet display

FOOTE, AVON EDWARD, radio and television producer, communications educator, born Burnsville, Mississippi in Tishomingo County, September 24, 1937; son of Avon Ruble Foote and Lila Frances Broughton Foote; B.S. in Mathematics, Florence State College, 1963; M.S. in Communications, University of Southern Mississippi, 1968; Ph.D. in Speech Communications (electronic media production and management),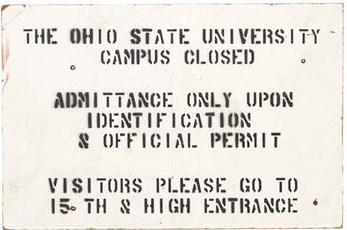 The Ohio State University, 1970; married March 15, 1960, Dorothy Veronica Gargis, Ph.D. in Educational Leadership and Administration [French Huguenot spelling of family name "Garrigues or Garrigus", that is often-represented surname in the Paris, France, phone book. The current host of CBS Sunday Morning Charles Osgood miscalled the Shoals surname -- "Garvis" -- when he thanked in 2005 the Footes at award luncheon in the Grand Hyatt, New York, for their support of the Library of American Broadcasting.]; children of Dottie and Eddie: Anthony Edward, Kevin Avon and Veronica Michele; Avon's employment history: Announcer, Station WJOI, Florence, Alabama, 1958 to 1960 [Joe Van Sandt later sold this station to a buyer who then sold it to Sam Phillips, and his family still owns it.]; production manager, Station WOWL-TV, Florence, 1960 to 1964 [This station was owned by Richard Biddle and Jack Worley.]; advertising coordinator and writer, Plough Inc., Memphis, 1964 to 1966 before returning to university for graduate study; campus radio adviser and parttime instructor, University Southern Mississippi, Hattiesburg, 1966 to 1967; producer-director telecommunications, The Ohio State University, Columbus, 1967 to 1969; associate professor, University of Mississippi, Oxford, 1971 to 1972; adjunct professor, The Ohio State University, Columbus, 1972 to 1974; project director, Ohio Valley Medical Microwave Television System,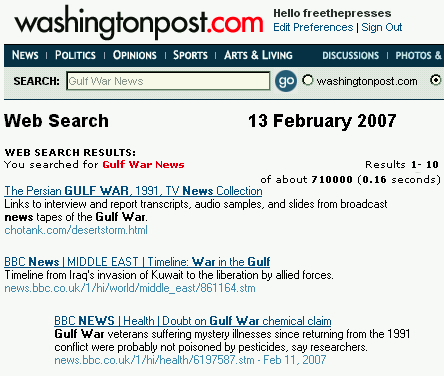 Ohio Educational Broadcasting (OEB) Network Commission, Columbus, 1972 to 1974 with Richard Hull, executive director of OEB. [The System had become an ARC | Appalachian Regional Commission demonstration project before Foote took over management]; faculty and coordinator graduate studies, School of Journalism and Mass Communication, University of Georgia, Athens, 1974 to 1980; associate professor of Broadcasting, University of North Alabama, Florence, 1980 forward; professor, UNA in England, University of London, 1990 and 1991; instructor, UCLA/UNA joint certificate in film, 2004-2006. Awards judge, Ohio State Awards, 1968 to 1973; chairman, faculty screening committee, George Foster Peabody Radio-TV Awards, 1976 to 1979. Board of directors, Florence YMCA, 1982 to 1986. NDEA fellow, 1967; National Academy of TV Arts and Sciences Memorial fellow, 1970; recipient Community Service award Florence Civitan Club, 1990, for Shoals CP Telethon hosting; first place award, Corporate Video Competition, National Broadcasting Society, 1991; regional first and national third place award College Emmy, Hollywood Academy TV Arts and Sciences, 1984; honorable mention, comedy awards, National Broadcasting Society, 1987. Providing image for history brochure, Johns Hopkins University Press (oldest in US), 2002; Industry-Faculty Seminar fellow, International Radio-TV Society, New York, 1987. Member, Radio-Television News Directors Association, 2001-04, Alpha Epsilon Rho (founding advisor, North Alabama Chapter, 1981 and advisor 2002-03), BBC Networking Club (1994 to 1996). Republican. Anglican. Club: Exchange (board of directors 1984 to 1986). Collection developer: The Persian Gulf War Video Collection (1992-2001), opened in Broadcast Pioneers Library of American Broadcasting/National Public Broadcasting Archives, University of Maryland, new Hornbake Library facilities, 2002 with Grand Opening in New York,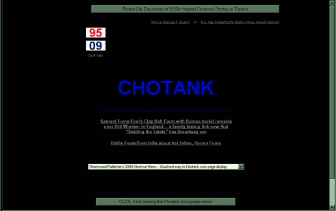 Grand Hyatt Hotel, September 18, 2003; Editor: The Challenges of Educational Communications, 1970; CBS and Congress: The Selling of the Pentagon Papers, 1972. Contributor, Broadcasting and Bargaining, edited by Allen E. Koenig at Ohio State, 1970; Chotankers, 1982.
Editor, National Association of Educational Broadcasters, Educational Broadcasting Review, 1969 to 1973. [Foote followed his friend and former professor -- Allen E. Koenig -- as editor of EBR. Foote hired Mrs. Frederick G. Kilgour (Eleanor) as his assistant editor. Her husband was the founder of OCLC at Ohio State University; OCLC now serves 69,000 libraries in over 110 countries and territories around the world. Since Foote's years of graduate study and employment at Ohio State, EBR has been selected as reference shelf materials for collections on various public radio, public television topics, including Allerton House Conferences, National Public Broadcasting Archives, University of Maryland, in 2002].
---
Garrison Keillor, live broadcast, American Public Media
A Prairie Home Companion, 14 June 2014
Keillor speaks with Grand Ole Opry star Steve Warner about his Noblesville,
Indiana, roots and many successful years with Opry in Nashville.
Keillor: "When I started this show 40 years ago,
you know I based it on the Opry."
Warner: "No. I didn't know."

Keillor's first theme was Hank Snow's "Hello Love" from the Grand Ole Opry, Nashville, but
Keillor changed the opening music in 1987 for his Prairie Home Companion to the
"Tishomingo Blues" score, substituting his own lyrics for the 1917 lyrics. The original lyrics recall Mississippi nostalgia.
---
More of Æ's CV details: New York Festivals, International TV Program and Promotion, National Jury Chairperson (there were 25), 2002-04 and 2007, with Chairperson judging visit, New York office in 2003. Additional study at New York University (Summer 1961); and University of Mississippi (Summer 1967). Producer of TV programs; Web developer of chotank.com -- an original BBC Networking Club website from Cambridge, 1995; sometimes Web Consultant with Dr. Dorothy Gargis Foote to son Kevin's FastHealth Corporation, Tuscaloosa, with offices in the Royal Bank of Canada (RBC) building until March 2010. In September 2006 FastHealth was in over 250 hospitals across the states after making publicity splash with billboards in Tuscaloosa. Two Huntsville-Decatur-Florence affiliates of FastHealth.com are Helen Keller Hospital, Sheffield, Alabama and Athens-Limestone Hospital, Athens, Alabama. The Americus, Georgia hospital, heavily damaged in 2007 tornado strikes across Alabama and Georgia, is a contract affiliate of FastHealth and FastCommand. Both President Bush and President Carter visited the hospital after the weather damage, and the WashingtonPost.com distributed on 15 March 2007 an Associated Press news story about hospital recovery. The Washington Post featured the hospital's web address in its coverage.



This is an Interview with CEO President Kevin Avon Foote
of Tuscaloosa, AL. The interview aired Jan 30th @ 9PM CDT on
Channel 6 - Fox News, Birmingham.
Category: People & Blogs. Uploaded by FastCommand2012, 6 Feb 2012.

UNA Office Email: aefoote@una.edu.
Allen E. Koenig and Thomas H. Langevin, The Registry for College and University Presidents, in Presidential Transition in Higher Education: Managing Leadership Change, The Johns Hopkins University Press, 2004. Koenig is first cousin of Benjamin Graves, UAHuntsville's first President. Benjamin Graves Drive passes the College of Nursing on the UAHuntsville campus.
Read on, dull stuff for surfers,
but great for genealogists!
Chotankers: A Family History in Windsor Library
near Windsor Castle, Click for info
Nancy Crowder Foote BIBLE records
with notes by Eddie Foote on
relatives: Sam Phillips family of
Lauderdale County, Alabama, Finch Grisham
and Gilson Foote families of Tishomingo County, Mississippi
Correction--CHOTANKERS (the book)
Chotank Web History -- Starting with BBC Networking Club membership
Return to THORNWOOD ÞUBLISHERS' Menu-Plus
T. S. Stribling, winner 1933 Pulitzer Prize -- Jump to Foote's Comments
Stribling is a distant kinsman of the Footes of Chester, South Carolina through the Kincheloes. To get Tom Stribling's laughable opinions on family history, read first three paragraphs of Chapter I in Laughing Stock, Stribling's autobiography that was published many years after his death in Florence, Alabama. Dr. Foote was given a copy by Mrs. Stribling during his trip to Clifton, Tennessee when his class was preparing to shoot "She Had Hair Like His Sister's". The program later won the equivalent of a College Emmy from the Hollywood Academy of Television Arts and Sciences, Los Angeles. The Academy places a copy of all winning entries in the UCLA Archives. Dr. Foote has donated a complete Kincheloe family history that describes the Kincheloe legacy of both families to the Stribling Collection at the UNA Library. Professor Foote moderated a session on Stribling during the 2006 George Lindsey UNA Film Festival, that included granddaughter Niki Foote's presentation on Stribling's ties to Roanoke, Virginia. Dr. Randy Cross, who serves with Foote on the local Shoals Stribling Birthday Committee, was the UNA Fall 2007 Convocation speaker. Cross was nominated for a Pulitzer for his editing of Laughing Stock.
"O Brother, Where Art Thou?"
Read why history of the movie, that features a
Tishomingo County Radio Station, bears a footprint.
"O Brother, Where Art Thou?" on NPR
Hear T Bone discuss soundtrack including John Hartford with Hogfoot.
Burke's Peerage and Gentry --
Two years ago, you would have Clicked Here to
read about Foote-Stuart family of Chotank and their friendship with
Robert E. Lee.
But, ATAVUS, Burke's on-line journal for March-April 2003
has been taken off line.
The original Burke's article by Dr. Avon Edward Foote explained that Henry Stuart Foote, one of the founders of the University of North Alabama and pre-Civil War Governor of Mississippi, was a kinsman of both families.
C-Span has supported in 2009 the Smithsonian Collector's Edition of Lincoln: America's Greatest President at 200. The map of "12 Days on the Run", page 77, includes location of "Dr. Richard Stuart's Home". The back cover features the C-SPAN advertisement.
Jump to Vanderbilt University: Click to read Vandy's account of Henry Stuart Foote in Nashville and how his home is the oldest building on campus.
The Methodist Episcopal Church that traced its roots to John Wesley, vicar in the Church of England, founded both Vanderbilt and the University of North Alabama. Eddie says that Governor Foote created -- in 1870s at his Nashville home -- the Foote/Foot genealogy that first revealed England burial of Samuel Foote/Foot near Windsor Castle.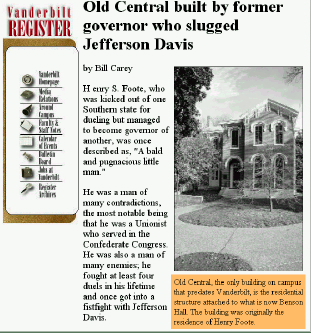 Click link above to read full story from April 2002
Or, to get page about Andrew Jackson, Henry Stuart Foote and North Alabama -- CLICK HERE