Endnotes for BLOG09.
[ "M O R E on Frank Kyle Spain" ]

To see the article before reading the endnotes Click Here
(end 1) Biddle's 1982 comments in paper are available free by regular mail or by internet with Chotank.com registered password. Write Professor Avon Edward Foote, 222 Shirley Drive, Florence, AL 35633 for paper copy, or get password assignment by writing Chotank@aol.com. Please use Biddle for email subject line and include snail mail address in your message if requesting password.
The Bucknell University website reported the death of its 1941 graduate: Richard Biddle, P.O. Box 2220, Florence, AL 35630, [died] on Oct. 30 [1995]. In 1957 he co-founded WOWL-TV 15, Florence's first television station. He was a member of the National Association of Broadcasters and the Alabama Broadcasters' Association, where he was a past president, Broadcaster of the Year in 1982 and also received the Outstanding Service Award. He was named University of North Alabama "Professional of the Year" in 1985 and Executive of the Year by Professional Secretaries International in 1989. He belonged to the Shoals Area Chamber of Commerce, where he was Shoals Citizen of the Year in 1992. In October (1994) a broadcast journalism scholarship honoring Dick, who was chair of the board for the NBC affiliate WOWL, was endowed at the University of North Alabama. His wife, Sara, writes, "My husband had the joy of knowing about this scholarship before he died." At Bucknell he was a member of Kappa Sigma fraternity. In an article about his death in a newspaper he is titled "dean of broadcasting," TV pioneer and civic leader, and it goes on to say, "He got so involved in the community and everything he put his touch to." ... He was applauded for his effectiveness in all his areas of interest. Dick is survived by his wife, Sara, two children and three grandchildren.
Richard Biddle moved to Philadelphia for entry into major market broadcasting after several smaller-market, Pennsylvania radio jobs following his graduation from Bucknell. The newspaper story is among family press clippings in the private collection of his granddaughter in Alabama, who is also the step-daughter of Frank Kyle Spain. [More] end 1 has been added on 21 August 2009: Dick and Ruth's two children were Holly and Rick. Both children are associated with Tishomingo County and Tupelo radio/television in Mississippi history. Read Mark & Brian page at Chotank.com. Or get Biddle WOWL call-sign history.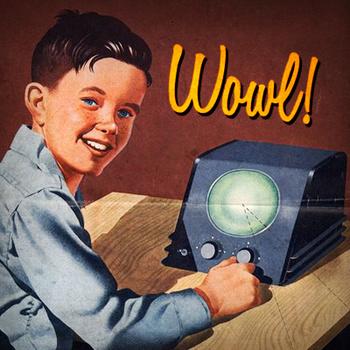 WOWL was a New Orleans radio station in 1925.
The Owl Battery Company owned and operated
the wireless facility with 100 watts on wavelength of 270.
Since 1999, WOWL has been an FM station licensed to
Burnsville, Mississippi.
Milt Underwood, Discovery Network, who talked by phone with Dr. Foote in 2007 about Frank Kyle Spain's microwave systems, started his cable career in Florence -- the sixth oldest CATV system in the nation. Foote reminded Underwood that long ago in 1963 when Spain helped with Comcast's start-up in Tupelo and became co-founder of MCI, Foote was sales rep, talent, and production manager for Biddle's TV outlet.
The YouTube video on Blog09 main page was uploaded by Comcast to celebrate Anniversary of company founding in 1963. The video, "Comcast History, November 13, 2008", includes shots of Elvis performing while narrator talks of King's birth in Tupelo.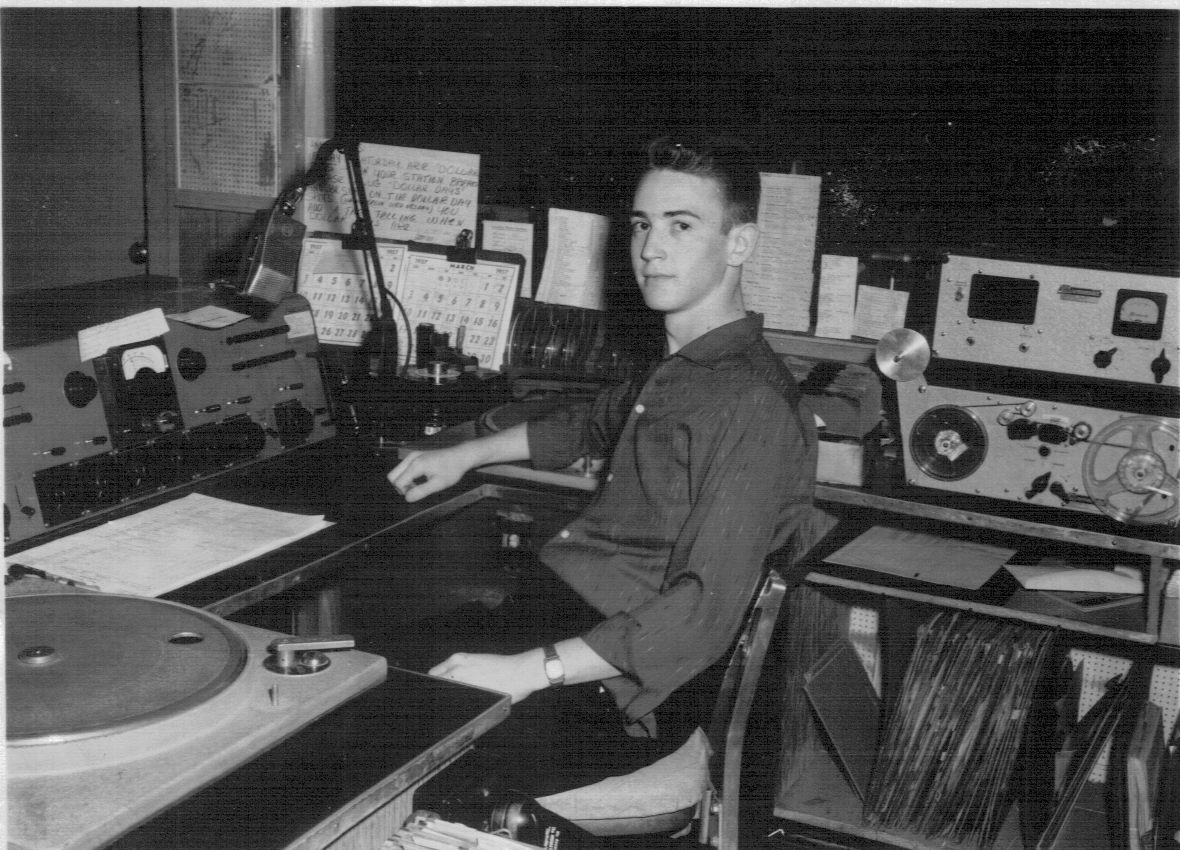 Avon Edward Foote is pictured above at Starkville, Mississippi, radio station in March 1957 as Frank Kyle Spain was launching his TV station in Tupelo. While a student at Mississippi State College Foote worked for WSSO, along side several student friends, including First Class Engineer/Announcer John Houck. Foote first enrolled in June 1955 at age 17 as a college freshman in electrical engineering at Mississippi State,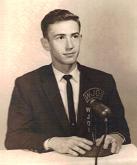 Eddie Foote

where he was known among family and friends as "Eddie". Later as a student at Mississippi Southern College [now University of Southern Mississippi] he learned radio operations at campus station WMSU. After college radio study he was employed with WSSO, Starkville, and with WFOR, WHSY, and WBKH, all in Hattiesburg. In 1958 he came to Florence, Alabama to attend Florence State College [now the University of North Alabama] and joined WJOI, working with Paul Shannon and Tommy Van Sandt in station tower and studio relocation to the current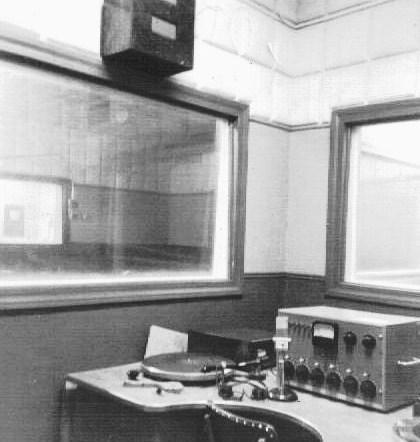 WFOR, Hattiesburg, view from
news control into live studio A
1958 photo by Eddie Foote

site of Jerry Phillips' Big River stations on Sam Phillips Street. He received an undergraduate degree in mathematics at Florence State College working at WOWL-TV from June 1960. During summer 1961, Eddie Foote earned college credit for television courses at New York University. In New York he viewed his first television in NBC living-color on a RCA set in the Radio City basement. A few weeks later Dick and Ruth Biddle invited him to attend the Jack Paar Tonight Show at mid-town Manhattan studios. The WOWL-TV party observed NBC television engineers setting color standards before the Paar telecast with a young model that the public knew as "the NBC living-color girl". The Federal Communications Commission, Washington, licensed Eddie in 1962 as a Second Class, Radio-Telephone Engineer. He upgraded within a few years his FCC status to First Class. According to FCC rules, fully licensed engineers at WOWL supervised networking of the RCA microwave transmitter and receiver. The tube-type units required frequent engineering maintenance and set-up but had been installed on Spain's recommendations before Foote joined the production staff in 1960. After returning to Hattiesburg first for a Master's degree and then receiving a Ph.D. from Ohio State in 1970, Foote became project director of the Ohio Valley Medical Microwave Television System, Columbus. In this position on behalf of the Ohio Educational Broadcasting Commission, he worked with Oscar Reed, who had collaborated with Edwin Howard Armstrong in building the first Baltimore/Washington FM radio station.

Chotank.com Presents Tribute to Maj. Edwin H. Armstrong
by the Radio Club of America in 1954
-- Click "play" arrow for salute and final broadcast of KE2XCC --

BLOG09 TITLE: Armstrong remembered for inventing
FM radio technology and spending his fortune to promote




Uploaded to YouTube, 12 October 2008

Online minutes of the Washington Radio Club for January 13, 1940, with Maj. Armstrong as guest speaker, identify Reed as the Vice-President of the Club. Oscar wrote decades later, using an Atlantic Research Corporation letterhead, to Dr. Foote after a consultant's visit to Columbus, Ohio: "Dear Ed, I certainly enjoyed the class opportunity and the hospitality of your home. Thanks again. The enclosure showed up in the Sunday paper. Perhaps it would make a further class handout of interest. With best regards, Oscar" -- at the time of Reed's letter, Foote was teaching the broadcast law course at Ohio State that Dr. Walter Emery, OSU, and Erwin Krasnow had both previously taught. Krasnow is now board member for the Library of American Broadcasting at University of Maryland and Washington communications attorney.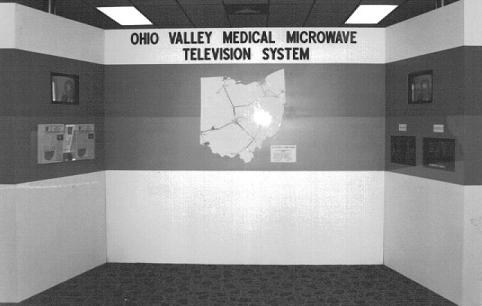 Beamon Sparks of Jansky & Bailey had teamed with Reed for Foote on design and construction of microwave technology in support of medical services in Ohio. The System was intended to serve Ohio State University Hospital, several Southeast Ohio hospitals, and the Ohio Educational Broadcasting Network Commission. Dr. Avon Edward Foote is married to UA-Huntsville nursing professor Dr. Dorothy Gargis Foote. Their son, Kevin, is CEO of FastHealth and FastCommand with over 250 hospital/health agency clients in over 30 states. A new client of Kevin Foote's Company in 2007 was Northwestern Memorial Hospital, Chicago. According to www.nmh.org, "Northwestern Memorial is nationally recognized with 744 beds in the Feinberg Pavilion, Prentice Women's Hospital and the Stone Institute of Psychiatry. It is the primary teaching hospital for Northwestern University's Feinberg School of Medicine and a major Midwest referral center." Complete bio on Dr. A. E. Foote with family history links is at www.chotank.com/avonbio.html. Read comments about the Ohio experiment with interactive television medical care in letter from Emerson Foote, who is credited with giving the American Cancer Society a successful financial and branding makeover in early 1940s.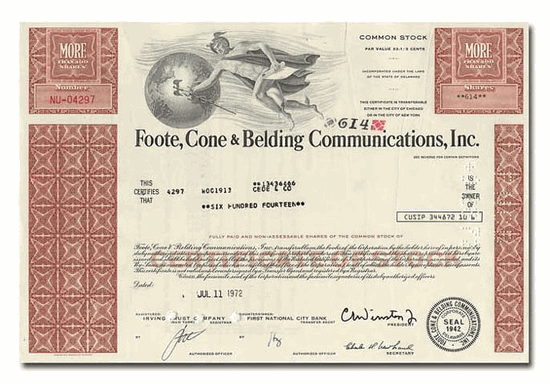 While of little significance to the history of Comcast presented here, it of importance that Frank Kyle Spain was born in Ohio. He haltingly remembered living and working in New York State, when Edwin Armstrong committed suicide there in the 1950s. And, he acknowledged his earlier awareness of Armstrong's Radio City situation to Foote when they met in Tupelo in Summer 2005. Armstrong had been finally driven to an act of personal destruction by career reversals in the inventor's life, because he had ploughed most all his invention's profits back into FM development and application. But, RCA/NBC refused to recognize his invention of FM sound that the TV industry adopted for the audio transmission standard even though Mrs. Armstrong had been David Sarnoff's secretary when Armstrong married her. Sarnoff was head of the Radio Corporation of America (RCA) which he ran with an iron fist, nearly as strong as Vulcan's grip atop Alabama's Red Mountain. In planning his own future, the clever young Spain had second thoughts of continuing too long a professional loyalty to RCA and so-called "General Sarnoff". Was Sarnoff just withstanding deteroration of radio's service as the Vulcan, the Roman god of fire, fights rust in Birmingham? How should Spain interpret Sarnoff's $1,000,000 payment to Mrs. Armstrong after the suicide of her husband?

When RCA convinced the FCC to abandon the old FM band in favor of the current location of 88-108 MHz, AT&T supported the move. Having the industry change all the FM technology to a new spectrum location insured RCA that Armstrong's efforts would not survive for the most part and that AM, which had the personal support of Sarnoff, would remain the first-and-foremost, American radio technology for many decades. The prospect left RCA free to ignore FM completely and to concentrate on development of Sarnoff's main goal of American television. AT&T especially liked the decision of the FCC, too, because high quality FM relay transmission could no longer replace AT&T wired transmission to provide national and regional network radio program distribution. By becoming a founder of MCI in 1963, Spain stepped up to bring down the AT&T monopoly through technical innovation and later help provide carefully-crafted influence to sell the government on MCI's plan. Arguments by Spain and other MCI founders and managers eventually overshadowed and destroyed the opponents of industry restructuring at AT&T. The NASA book chapter at history.nasa.gov, which is identified in endnote six, has this significant quote about radio relay: "For example, an analog FM radio could carry 2,100 circuits. Using a technique called single sideband radio, engineers could boost this to 5,400 circuits with some loss of transmission quality." Ironically, to the extent that Spain aided Cable development in Tupelo, he helped dilute in time the power of the oldest domestic radio and television network, the National Broadcasting Company, and, in fact, the whole of free over-the-air broadcasting in the U.S.

After I wrote the following paragraph on 1 February 2009, a blogger correspondent questioned my account of mid 1940s, FM-relay network in Alabama. Joe Van Sandt should have been able to receive an experimental license allowing WJOI temporary use of one of the old FM band transmitters from stations moving to the new band. And 1940s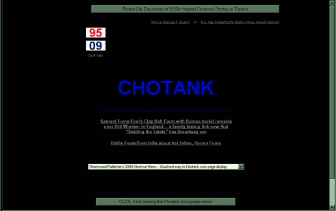 investments from the Alabama-based Anderson book store family insured him of the financial resources to undertake such a nationally significant innovation. If the FCC granted an experimental license in the older lower band to Van Sandt, it would have a limited-term test period because the change-over was already underway. Major Armstrong was still operating his Alpine station on the lower FM band in 1949. And, all the exclusive postwar, relay transmitters were on frequencies at 30 to 40 megahertz, which the FCC designated to be completely phased out, too. While a license for regional network distribution of the Blue Seal program may have been received by WJOI, it seems just as likely that Van Sandt lost the Blue Seal network to WSM before WJOI engineers could put the station's brilliant regional network plan into effect. Since documented sources show that the upper-band FM station did not start broadcasting until 1952 with a very low power of 140 watts, this must be what happened to the wide-area networking scheme:
Joe Van Sandt, Florence, Alabama, used an FM relay system anchored by WJOI-FM to establish a four-state network of 12 stations for the Blue Seal Pals after they moved to his station from WLAY, Sheffield in 1946. Van Sandt's employment history, when he first arrived in Muscle Shoals, included advertising department stints with The Times Picayune, New Orleans, and the Nashville Banner. He spent a decade managing WLAY -- originally known as WNRA for "National Recovery Act" and later took call letters WMSD to stand for "Muscle Shoals District", 250 watts on 1420 kilohertz that began in November 1933 -- before building his new high-tech, AM-FM facility in Florence aided by investments from book store family of Chairman Emeritus Charles Anderson, Sr., Clyde B. Anderson and Joel Anderson. See article in Knoxville News about Charles Anderson, Jr. The Andersons with Clyde as Chairman, President and CEO operate Books-A-Million and several other publishing/distribution companies from Birmingham, Knoxville and Florence. (Broadcasting & Telecasting reported, January 14, 1946, page 65: "WJOI, Florence, Ala., owned by Col. Clyde W. Anderson and Joe T. Van Sandt, is scheduled to begin operations about March 1 . . . .") The FM relay network was supplemented by regular AT&T phone line interconnects for several stations in Georgia and Tennessee that were far beyond the reach of an FM relay transmitter. By 1958, when Paul Shannon explained the old FM network system at WJOI to Eddie Foote, it had not been used for nearly a decade for networking, but it had provided FM programming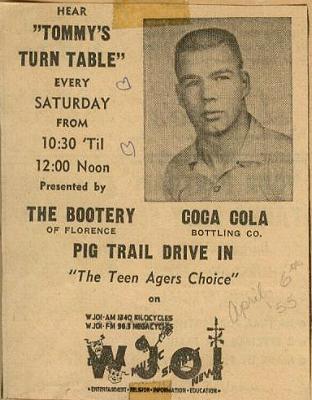 to North Alabama as recently as 1954. Dr. Foote has one of the Zenith dual FM band radio models used by engineers to monitor the system at both home and office. The Blue Seal Flour Company moved the show from WJOI to WSM, Nashville, on AM clear-channel 650. WSM's 50,000 watts reached all of the mid-South, day or night from a tower south of Nashville. Even though WSM had begun FM transmission experiments on the old FM band as early as 1939, FM would not be needed to substitute for the famous wide area, clear channel signal of WSM-AM. Listeners knew it as "The Air Castle of the South". The WSM and Blue Seal Flour promotion poster from the Alabama Music Hall of Fame in Tuscumbia (featured below) shows Buddy Bain, the most recent addition to the Blue Seal Pals lineup before the group left Florence for Nashville, with the two original founders, Edgar Clayton and Quinton Claunch.
According to Foote's friend, Chris Sterling, author of Sounds of Change: FM Broadcasting in America with Michael Keith, (Chapel Hill: University of North Carolina Press, 2008), "The first full operating license for a commercial FM station, W47NV, affiliated with AM station WSM in Nashville, Tennessee, was issued March 1, 1941. . . . 14 experimental FM transmitters continued in operation." (page 40). On page 77 of the same co-authored book Sterling and Keith write of a "powerful FM station in Birmingham, Alabama"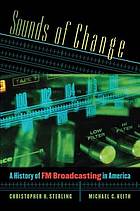 making network program feeds to 24 AM stations in Alabama and Tennessee in 1949. M.D. Smith, III, Huntsville, Alabama, writes that the powerful station was WBRC-FM which he says in his web history was built by his family. He claims its 500,000 watt signal began in 1946 with a construction permit, that was issued by the Federal Communications Commission. Smith says the station was shut down in June 1948 in preparation to put WBRC-TV on the air approximately one year later. (Broadcasting & Telecasting, August 29, 1949, page 35, reported WBRC-FM moving forward with networking plans for sponsored program distribution and that the Birmingham owners had consulted with Maj. Armstrong on questions of coverage in Birmingham.) Tim Hollis, Images of America: Birmingham Broadcasting (Charleston,SC: Arcadia Publishing, 2006), has on page 15 a photograph of the new FM broadcasting building with large WBRC-FM sign on front facade. Along side the building, that caption says was constructed atop Red Mountain in 1947, the base of the exceptional new FM tower is also visible. Go to [More on Frank Kyle Spain] for Professor Sterling's BLOG09 Comment on main article and these endnotes. If Joe Van Sandt planned an FM relay network, he would have known of Armstrong's experiments using the station at Alpine, New Jersey, that went back to 1939 or earlier, and he would have directed his technical staff and consulting engineers to approach WBRC for suggestions on implementing the service. In 1946 when Joe Van Sandt may have been exploring FM radio service for a Blue Seal Flour Network, Dexter Johnson, shown in photo below, had a sister attending Burnsville High School in Mississippi for her freshman and later sophomore year.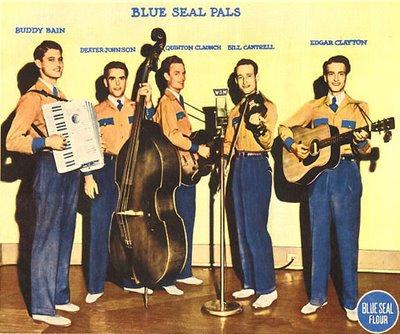 The original of this image
is in the Alabama Music
Hall of Fame in Tuscumbia
In March 1957, when Frank Spain launched his Tupelo TV station, Buddy Bain was given a live 30 minute show on Wednesday nights. You can read a delightful account of visit to Tupelo in 2000 by travel reporter Jonathan Glancey. He gives moving acknowledgment of Buddy and wife Kay's cultural magnitude in NE Mississippi. The article was published by London's The Guardian and is available online. But, the London reporter overlooked the importance of Frank Spain's automobile collection, that Spain escorted Foote through in 2005 after taking his North Alabama visitor to downtown Tupelo Museum. Spain personally narrated for Foote an exhibit of equipment that he had designed and built in New York (city and state) for NBC and/or his station. The exhibit and telecommunication library occupied the second floor of the world-class, Tupelo Automobile Museum.
Sam Phillips, who would later purchase WJOI, hired Blue Seal Pals Quinton Claunch and Bill Cantrell for session musicians at his Sun Studios in Memphis.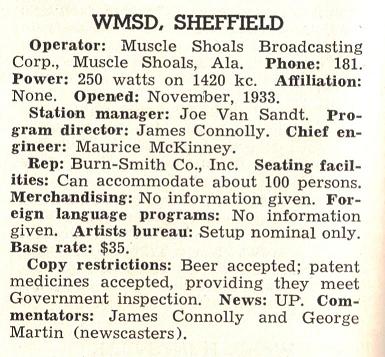 Variety Radio Directory
1940-41

Sam had worked in early 1940s for Joe Van Sandt at WMSD -- renamed WLAY in July 1942 -- where Station Manager Van Sandt assigned him to the duo roles of announcing and engineering. And, Van Sandt gave him the Blue Seal Pals show to produce. Sam told The Commercial Appeal in 2000, "I met Bill [Cantrell] and Quinton Claunch during my first job in radio (part-time announcer at WLAY) in Muscle Shoals and put them on the air picking and grinning and singing." You can now hear the Blue Seal Pals after they moved from Florence to Nashville for their 6:30 AM, Saturday Sun-Up-Serenade. WSM Announcer Jud Collins voiced two Blue Seal Flour 60 second commercials that have been deleted from the on-line program, but Bill Cantrell and Buddy Bain promote an upcoming live show of the group near Town Creek, Alabama. Later in the show, Collins reminds January 1947, listeners to tune in a regular segment of the Grand Ole Opry, Saturday nights, 10:45, sponsored by Blue Seal Flour. Missing from the show is an very accomplished member of the Pals, Edgar Clayton, whose daughter Cathy knows Dr. Foote from her University of North Alabama study/staff years. Clayton is recognized for being a founding member of the Country Music Association in Nashville in 1954. And, he helped with early careers of many famous, talented country singers including Sonny James and Tammy Wynette.

Another famous member of the Blue Seal Pals, Dexter Johnson, can be heard on mandolin with "Johnson's Reel" during show linked above. He established the first Muscle Shoals recording studio, and his nephew Jimmy is an original member of the Swampers, immortalized in "Sweet Home Alabama". [Jimmy's dad Ray and his Uncle Dexter are children of William Homer Johnson and Edith Ophelia Arnold Johnson of Iuka, Mississippi. Jimmy's Aunt Louise attended high school in Burnsville and then Iuka, where she was known as "Sally" when she graduated in 1949. Recently, Jimmy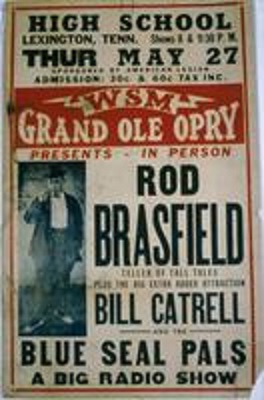 has recalled the "the weekends of my youth" in Iuka during the 1950s and the 1960s, and his Aunt Louise has explained that because Eddie's cousin, Louise Foote Johnston, was an Iuka Elementary School teacher during Louise own junior and senior years, she choose to be known as "Sally Johnson" for her two years as Iuka High School student.]
After WJOI phone conversations by Foote with Jud Phillips and musicians traveling in the Shoals area with entertainer Jerry Lee Lewis, the rock singer guested on the Marty Martin Dance Party on WOWL-TV. By the time of Lewis appearances at WOWL-TV in 1960s, Sam's brother Jud had returned from Hattiesburg to live in the Shoals, and Eddie Foote who had worked in Hattiesburg radio moved from WJOI DJ to become within a few months Production Manager of WOWL-TV.
Earline Burns of York Terrace in Sheffield was Sam Phillips' sister-in-law. Earline's sister Becky, who became Mrs. Phillips and another sister who became Mrs. Connolly, met the to-be famous owner of Sun Studios at WLAY. Sam worked as engineer-announcer before 1943, and James Connolly was program director during that same period. Earline's two sisters had their own weekly radio show on the station. Becky Burns Phillips sings duet with Buddy Bain, "The Leaf of Love", for the Blue Seal Pals' Sun-Up-Serenade. The WSM, Nashville, Saturday morning program from January 11, 1947 is linked above, while the Rod Brasfield poster is for May 27, 1948.
In the 1950s and 1960s "Earline in Storyland" became a popular saturday morning television show on Dick Biddle's WOWL-TV. In deal to buy WJOI AM/FM, Sam acquired ownership of WJOI-FM that by then was on 107.3. It had operated first as WOWL-FM, but Radio Muscle Shoals sold its FM outlet to Tommy Van Sandt in 1965 to give WJOI a superior FM presence in North Alabama. The station is currently operated by the Phillips family as WQLT with 93,000 watts of effective radiated power. Wikipedia information documents that the Phillips family still programs the older FM frequency -- no longer used for regular FM -- to retransmit what was WJOI-AM. A low-power FM translator feeds the original, 1950s era WJOI-FM antenna attached to the antique tower located behind the main Van Sandt radio building on Sam Phillips Street.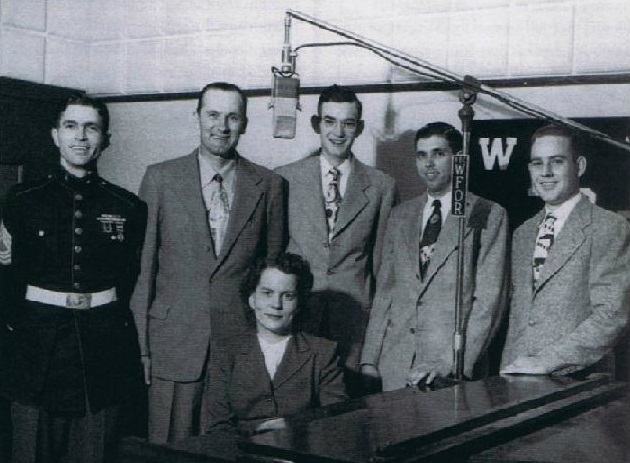 Jud Phillips (in uniform) and his wife Dean (seated) with the Sun Spot Quartet
as program starts on WFOR, Hattiesburg, Mississippi in 1950s
The 1955 Broadcasting Yearbook (page 70) lists John William (Jud) Phillips as both Assistant Station Manager and Promotions Manager at WJOI. Tom York is both Commercial Manager and Sales Director while Paula Ferguson serves as Program Director and Women's Director. Paul Shannon is Chief Engineer.
Read York's Wikipedia entry here. The current Wikipedia page overlooks York's work with WMCT, NBC television for Memphis. After leaving North Alabama in 1956 York joined WMCT, which shared Scripps-Howard corporate membership with WMC Radio. Across town at the Peabody Hotel stood the WREC Radio and Television studios where Kitty Kelly reigned when Elvis first came calling at Sam's Sun Records Studio. The top Memphis local and CBS network personality she moved fulltime into Sam Phillips' employment. After his own short stay near Beale Street, York left Memphis for bigger-and-better fortunes with WBRC Television, Birmingham. The Alpha Epsilon Rho Chapter at UNA honored both Tom York and Joe Van Sandt during mid-1980's award ceremonies at Holiday Inn, Sheffield, and the Florence Country Club. During same time period, the Northwest Alabama Press Association raised funds by roasting Sam Phillips at UNA. Nashville roasters included Johnny Cash, John Prine, and Jack Clement. The Doctors Foote/Foot attended.
Kelso Herston worked for Joe Van Sandt at WJOI in 1958 and 1959. After playing guitar for Foote in radio studios in 1959 he revealed that he was planning to ask Sam Phillips for a job. Sam hired Kelso to be his publishing representative in Nashville. Within ten years, Kelso would become the first musical director for the new CBS "Hee Haw" television show. Because of Joe Van Sandt's friendship with Sam Phillips, Elvis Presley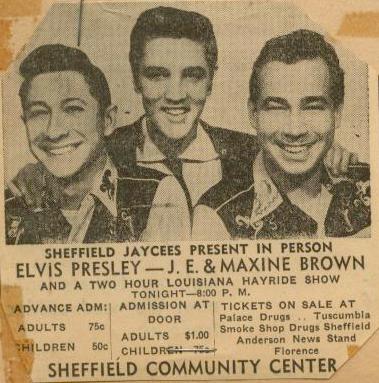 January 19, 1955
Concert Promotion Ad
Sheffield Community Center

guested on his son Tommy's Florence radio show, and the teenage Van Sandt arranged double-dates for Elvis with Shoals girls in 1955-56 school year. In addition to playing early Elvis records on "Tommy's Turntable", the younger Van Sandt helped host three rock concerts at the Sheffield Community Center in 1955 where Elvis appeared following several Sun record hits. Read of Johnny Cash performing with Elvis in Sheffield.

Dr. Foote met Elvis in a 30 minute interview and music session at WBKH radio studios in Hattiesburg, Mississippi in July or August 1956. An entourage riding in Elvis' white Cadillac convertible dropped the King off to tout his newest RCA 45-rpm record in the station's old second-floor location downtown. The Hattiesburg radio station visit was just a few weeks after Elvis rode train from New York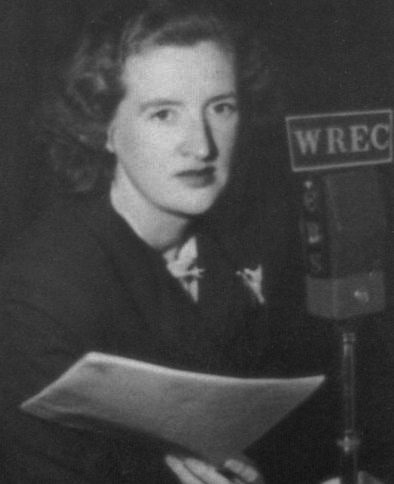 to Memphis. After stopping at Leighton, Alabama for passenger and U.S. mail delivery, he and other 50 or so passengers of Southern Railway's Number 36 where given a half-hour, lunch stop in Sheffield, Alabama, just in time to purchase meals on the railroad siding. Elvis, fresh from sessions in New York, had recorded his next RCA releases, "Hound Dog" and "Don't Be Cruel". During the trip home, Elvis listened continuously to both songs, but also intermixed other new-title cuts as train entered Mississippi over Bear Creek Bridge after its last Alabama stop at Cherokee. On across Mississippi, thru Iuka, Burnsville and Corinth, the singer used a portable record player provided by RCA, New York. A few weeks later, these same to-be-destined chart hits were the ones Elvis, remembering Kitty Kelly (pictured at left), asked the WBKH DJs to play during their first spins for the eager Hattiesburg late-afternoon radio audience.
Tommy Van Sandt, Tommy's dog Boxer, and Eddie Foote would share an apartment on Tombigbee Street, Florence, in 1959-60 college year. Dr. Foote remembers his first awareness of Elvis in Summer 1954 at "http://www.chotank.com/datamark.html".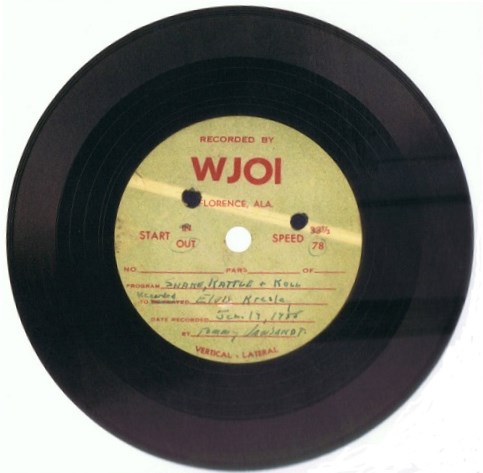 Tommy Van Sandt's WJOI Recording of
Elvis Presley singing
Shake, Rattle & Roll
Label Dated "Jan. 19, 1955"
The Smith family, which had owned WBRC AM-FM-TV in Birmingham, moved to Huntsville by 1959 and purchased 50,000 watt WAAY. The program staff invited Eddie to audition, but because of close Shoals friendships and appreciation of the Van Sandts, Foote turned down a firm job offer in a telegram to station owners. When Eddie married Dottie Gargis in March 1960, Tommy and Boxer moved out of the upstairs one bedroom space at 625 East Tombigbee, Florence. By that time Tommy owned and operated the Muzak music franchise in the Shoals, and Dottie's father had invested in music jukeboxes to expand his entertainment business interests in NW Alabama.
Joe Van Sandt gave the Footes their wedding trip to Memphis, Tennessee, by providing exchange advertising time to the Rebel Motel on Lamar Avenue. Under the due bill trade-out agreement with WJOI Radio,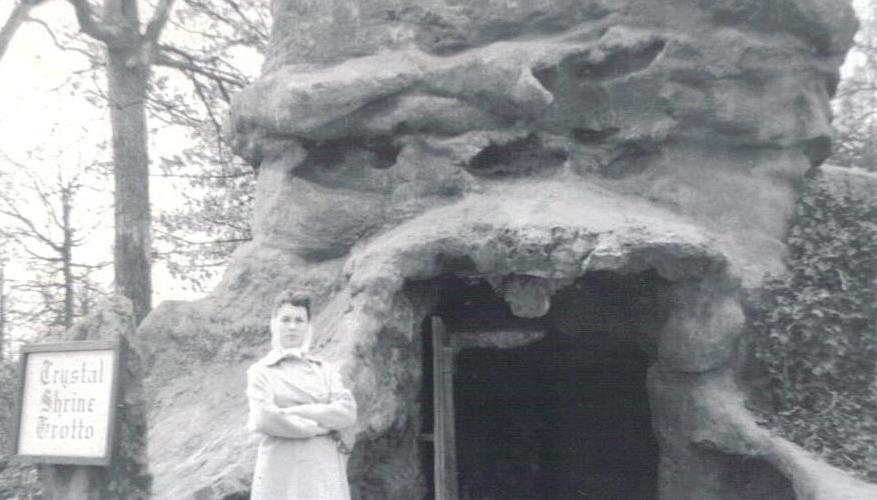 March 18, 1960
Dottie Foote at Grotto
Memphis Memorial Park

the Footes received a suite for five nights just as Elvis returned from the U.S. Army to his Memphis home. Elvis had visited his mother's grave at Forest Hills Cemetery near Graceland on Sunday Mornings. Today, March 18, 1960, two days before boarding bus at noon for important Nashville recording session, he and two buddies went by a famous religious-theme, Memorial Park attraction toward downtown Memphis. The 1960 guest book for The Shine Grotto shows Elvis signed-in just before the Foot/Footes wrote their names in the Friday-to-Monday visitor pages. 1950s tourism posters from the Memphis Sight Seeing Service carry a promotional line, See The Shrine Grotto -- Only man-made Crystal Cave in the World. In wee hours of Monday morning in Nashville Elvis recorded his hit, "Stuck on You".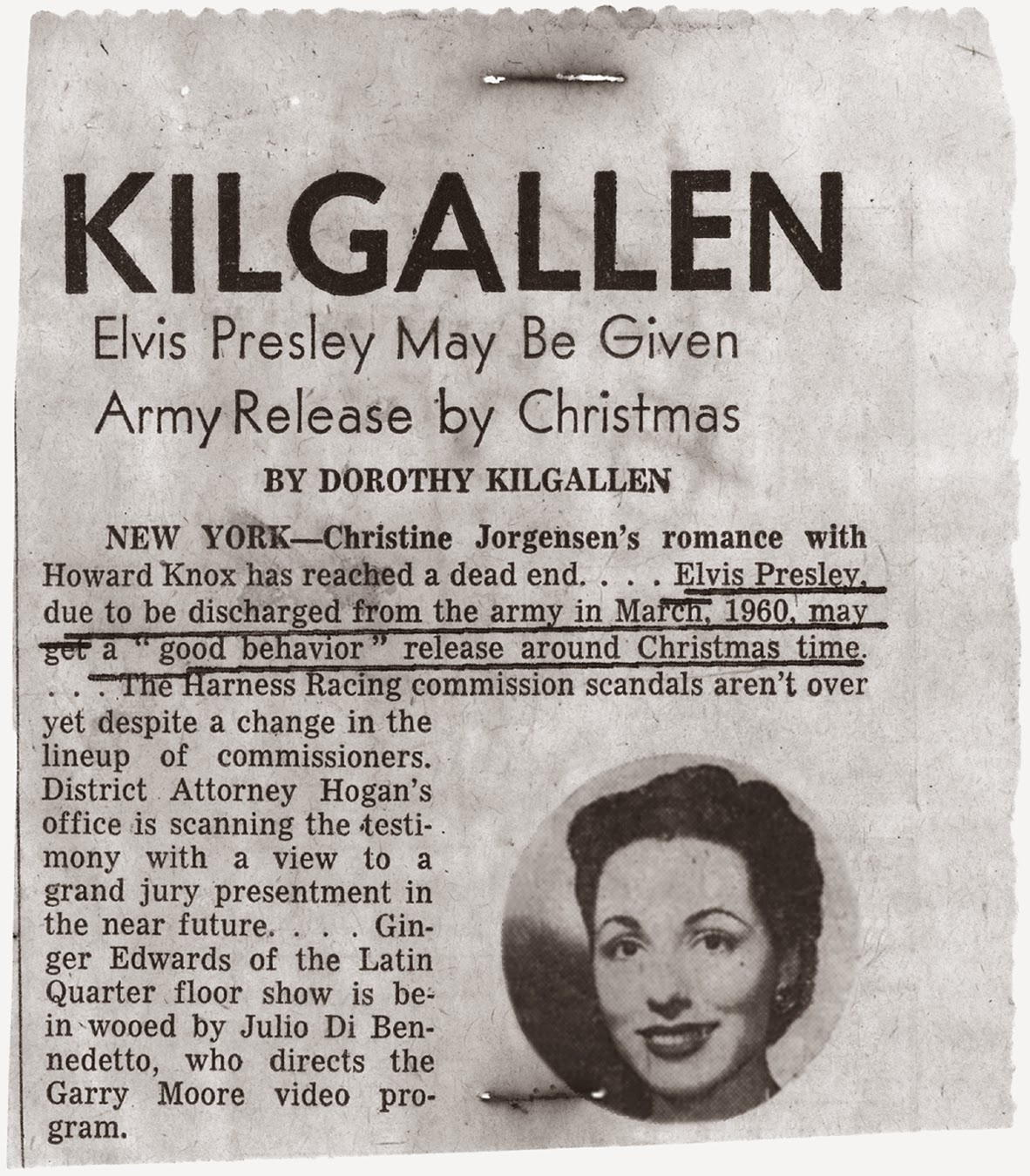 The Tracy Esthelbert Gargis family shares a favorite story of exceptional weekly jukebox returns from Dusty Joe's Restaurant, Tennessee Street, Florence. It was a popular hang-out for high school and college students and therefore one of the top recorded music venues in the Shoals of the mid-to-late 1950s. After hearing the top music again and again on Tracy Gargis jukeboxes at Dusty Joe's, Florence State College and other eateries, teenage patrons would be in a few years among leaders in establishing the Muscle Shoals music industry -- destined to become world famous. In the book Remembering Sweetwater - The Mansions, the Mills, the People, William L. McDonald identifies the restaurant owner as James "Dusty" Rickard, who was a popular sports figure in Muscle Shoals (see page 102). The 1958 Florence State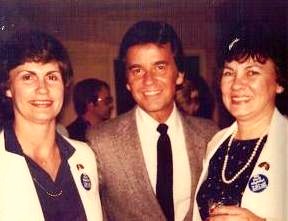 Dick Clark with
Joyce Argo(l) and Dottie Foote(r)
in Dallas, Texas during NAB meeting

Annual features both on and off campus gathering spots for students, FSC alums, and faculty. At pages 138 and 139, researchers find a nighttime photo of Dusty Joe's and an interior view picturing the jukebox at The Campus Inn. Advertising at back of Annual includes full page ad with patrons around the Gargis jukebox at Dusty Joe's and other pages for The Shanty, Shoals Theater, Norwood and Joylan Theaters, the Norwood Grill, The Triangle and many others. See: Maurice Reece, editor, The Diorama 1958 (Volume XI, Florence State College -- Florence, Alabama). Eddie and Dottie Foote have USPS mailing to her father containing four never-played copies of both an early Johnny Cash, Sun Records release and a different 45 rpm hit by The Cadillacs on Josie Records. But, neither appears on Gargis playlists from era. [Clarification added in May 2014: Tracy Gargis gave his daughter Dottie Gargis copy of each record when he had finished their jukebox run. Therefore, playlists are, or may be, reconstructed for month-by-month record release dates or chart appearances. Dottie is shown above with Dick Clark and her close friend Joyce of Athens, Georgia.] Within 10 months of Kelso Herston describing to Eddie Foote in the old WJOI studios just how much influence the Gargis family had on his own cultural tastes, Buddy Killen produced a Nashville recording session with Kelso on rhythm guitar, Floyd Cramer on piano, and the Anita Kerr singers on vocal. The music mix would be on the Dick Clark Show in 1960.

Charles Anderson, Jr., who has been a board member of the Country Music Association, Nashville, since 1996, grew up in Florence. He is the grandson of Joe Van Sandt's WJ0I partner, Col. Clyde W. Anderson. Charles, Jr., has served terms both as Chairman, CMA Board and as President, CMA Board.

See Google Books listing: Click for Billboard's history of Music in Muscle Shoals, written by Bill Williams and published 5 December 1970. Dr. Foote received his Ohio State Ph.D. in early December 1970, when Shoals' Music Industry and Kelso Herston were spotlighted for international attention in Billboard magazine.

Other Tracy Gargis' entertainment business investments included a partnership from his purchase of stocks in North Alabama's The Dismals Canyon, a portable tent-based skating rink, and movie theaters in Leighton and Cherokee, Alabama.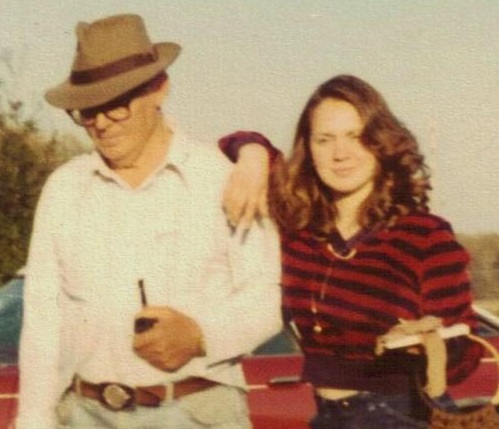 To make the small theaters successful and avoid booking conflicts with the large Shoals movie chain owned by the Rosenbaum family, Tracy (shown with granddaughter Chele Foote) acquired a significant collection of movies that were copyright free. In partnership with Dick Biddle, WOWL-TV station manager Jack Worley arranged to buy the theaters and the public-domain motion picture library to use the royalty-free films in televised Movie Nights. The local movie specials grabbed audiences and advertisers alike and soon the single movie showings were expanded to TV double features and later to TV 15 Movie Weeks. Duel in the Sun was selected by Biddle and Worley to premiere the new WOWL-TV collection. Choosing the David O. Selznick movie put the North Alabama viewer numbers over the top, because, as Fairfax Cone revealed in his 1969 book, Foote, Cone & Belding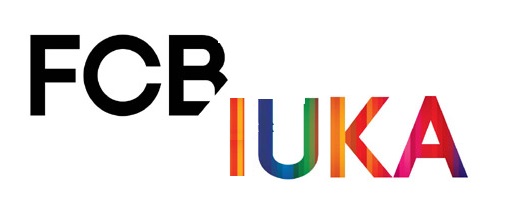 had promoted the Hollywood release of the movie for Selznick Productions. The innovative, locally-produced Hollywood series for North Alabama audiences became an instant WOWL-TV programming blockbuster in the years before video rentals and DVD digital players.
Sam Phillips took Jerry Lee Lewis into a spanking new Nashville 7th Avenue Studio, February 9, 1961. By making Lewis the first record artist to be mixed from the location, Sam confirmed the singer's music future at Sun. Sam Phillips produced the session himself after selecting both proven Nashville instrumentalists and newer up-and-coming musicians, such as guitarists Hank Garland and Kelso Herston.
Dr. Foote recommends that authors search for "Comcast in Mississippi history" at GOOGLE and read a highly credible story of Comcast startup in Tupelo. The top ten listing from GOOGLE has included often a link to www.fundinguniverse.com for a short but superior history of the Company to 1997. Check FundingUniverse website for this statement on Comcast Corporation history: Growth within Tupelo was difficult, however. At times, the three were forced to serve as door-to-door salesmen. By 1964 they decided to buy additional franchises in Meridian, Laurel, and West Point, in eastern Mississippi. The following year, American acquired more franchises in Okolona and Baldwyn, Mississippi. While these acquisitions succeeded in increasing subscribership, they failed to have much effect on penetration; there remained an insufficient number of subscribers to deliver a high return given the cost of setting up a local system.
(end 2) 2004 Battelle Report for Arizona Department of Commerce tells how MCI in Washington; UUNET; Bernie Ebbers' Worldcom that had been founded in Hattiesburg, Mississippi (Also see BusinessWeek Archives for Mississippi history chronology); AOL under Steve Case and Bob Pittman (who has a Mississippi education/media background, too, and has been professionally linked to Rusty Walker, Radio Consultant, Burnsville and Iuka and Director-At-Large, Country Music Association, Nashville); and broadband internet interests at the Department of Defense's ARPANET with selected individual employees from DoD's private contractors came together in Virginia/Northern VA DC area to establish a technology center that claimed 50 percent of worldwide internet traffic in the 1990s. Read PDF file at: http://www.azcommerce.net/doclib/PROP/ACITAppendices.pdf by Clicking Here. You will need to scroll to the section on Virginia and Washington in the 64 page report by Battelle. Battelle's headquarters are in Columbus near The Ohio State University. According to the research organization's website, Battelle with the labs it manages and co-manages, oversees a staff of 20,000 scientists, engineers and support specialists and conducts $3.7 billion in annual research and development. . . . Battelle is involved in thousands of technology projects for nearly 2,000 companies and government agencies. An example of its projects is Battelle and the University of Tennessee co-management of the Oak Ridge facility for the US Department of Energy.
(end 3) History of RCA/NBC and GE applications in network distribution of television by coaxial cable and radio relay is expected to help understanding of Frank Kyle Spain's experimental NBC assignments starting in June 1947. Note that the article sources are mostly marketing press reports of successful systems following years of research testing and technical development. Jump to: Article on early cable and radio relays of television nets at Television Obscurities, originally published 12 November 2009.
Before his retirement from UNA in 2008, Dr. Foote's antique radio/tv collection included a 1949 combination Silvertone television &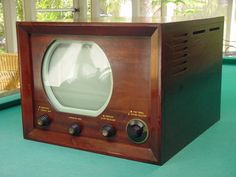 FM radio set with channel tuners that placed FM radio sound between analog TV channels 6 and 7. This is where FM band sound resided in pre-digital, analog radio-television electronic spectrum. The FCC had approved the new WBRC FM service in 1946, and then added television on Channel 4 in 1948. Then in 1953 the FCC moved the station from Channel 4 to Channel 6. With the approval of TV, FM radio was given up, but the belated arrival of TV 6 allowed North Alabama audiences to receive full, high-quality audio reproduction from WBRC television when listeners tuned near the lowest, FM radio dial-setting. No doubt this arrangement was an overdue compromise offering regulatory govermential concessions to WBRC. When activating its TV channel in 1948, WBRC's Smith family owners had released a very powerful regular FM radio service and its related FM-relay regional multi-state network.
Publicity for 2005 from the National Academy of Television Arts and Sciences, Southeast Chapter, reported that a Gold Circle Award would be given on 18 June to Frank Spain for his pioneering accomplishments. The announcement of the honor to be presented during regional Emmy Awards ceremonies in Atlanta stated that Spain owned television stations in West Palm Beach, Florida and Flagstaff, Arizona in addition to three Mississippi stations in Tupelo and Meridian. Spain pointed out the Academy chapter award to Foote at the Tupelo studios in July 2005, but Professor Foote has been unable to verify Spain's ownership of stations in Florida and Arizona. Dr. Foote was a National Academy of Television Arts and Sciences, Columbus-Dayton-Cincinnati Chapter, Scholar while attending Ohio State University.
(end 4) Disney's America History Page at THORNWOOD þUBLISHERS with Foote's paper, "Disneyfication in the New Media Chunnel: When Image Myth Takes Over", http://www.chotank.com/disneyrom.html, presented at University of London, Russell Square, July 2001. The paper addresses the disneyfication and filtering effects on the internet in 2000+. Foote presents models of the New Media Chunnel for the Broadband Revolution in the on-line paper, while warning of undesirable impact of disneyfication and filtering on Freedom of Expression. Two years before the Comcast decision to try to acquire Disney, Professor Foote completed 2002 text revisions recommended by Dr. Susan Mains, British Film Institute coordinator of the Inaugural International Media Conference. Four revised copies were sent to Richard Paterson, Head, Department of Knowledge, British Film Institute, Stephen Street, London, as Mains requested. Jonathan Zittrain, Professor, University of Oxford, England has a 2008 book, The Future of the Internet and How to Stop It.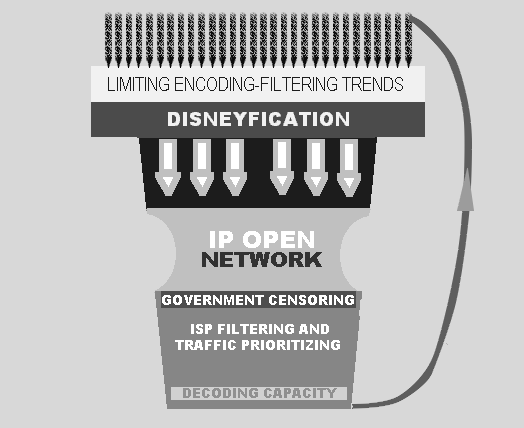 Foote electronically published two models in color for the July 2001 scholarly paper,
that he used in his presentation at University of London.
In 2004 to speed internet uploading in months before Comcast expanded
its broadband service, he created this 3rd gray-scale version
of "Model Two" by deleting color hexadecimal coding from the GIF image file.
While Zittrain uses two graphic models of the internet in Chapter Four of the new book, he has not cited Foote/Foot's 2001 paper. Instead he attributes model history in footnote one of Chapter Four to a 2003 book by Kevin Burns, with this comment added: (describing the seven-layer OSI protocol model and the four-layer DOD protocol model, the two foundational network communications protocols). Before Foote attended a May 2009 lecture at Wragge and Company in London by Zittrain, Foote wrote him requesting that he reconsider his book citations on the internet hourglass architecture model. After the lecture, Zittrain responded with a source history on this aspect of his 2008 book in 27 July 2009 E-mail while giving an opinion that the first graphic representation in Chapter Four is the "standard TCP/IP model".
Foote created, by adding a timely newspaper quote, a second revision of his original 2001 paper after the Comcast merger offer of 2004 to Disney. The Knight professor of Journalism Ethics at Washington and Lee University had written a Miami Herald op-ed piece about Comcast's attempt to assume control of Disney. With his permission, selective comments were added and appear on-line. The Press Institute of India quoted Foote in July 2004 on-line and print publication after Disney announced that it would be adding two new television channels to serve India. Michael Eisner, Disney CEO, traveled to India to help market the new channels to government and consumer representatives.
Dr. Avon Edward Foote (Eddie) attended a joint Harvard-Toronto-Oxford-Cambridge meeting at the University of Oxford, England, in May 2007 that focused on international broadband filtering of the internet. The meetings were held at St. Anne's College on Woodstock Road. Oxford University Blogs reported on Dr. Foote's participation. He observed a debate in the Oxford Union Debate Hall on democracy and the internet with Professor Zittrain on the opposing debate team. The Student President-Elect of the Union Luke Tryl, Magdalen College, gave Dr. Foote information on entry and dress traditions in a conversation several hours before the event and then invited him to a post-debate reception for participants in the Filtering Debate and special guests of the Oxford Internet Institute.
Foote met Luke Tryl in May 2007 in Oxford. Chotank presents
YouTube video showing Tryl with President of Afghanistan, October 2007.
-- Click "play" arrow to begin video display of YouTube stream --
CHOTANK TITLE: President Karzai at Oxford University



Excerpt transcript

(Sherard) Hi, this is another instalment of the Foreign
Office blog. I am with President Karzai of Afghanistan on
an official visit to Britain. He has been at Balmoral with
His Royal Highness The Prince of Wales, he has an audience
with Her Majesty The Queen this afternoon and is seeing the
Prime Minister tomorrow. But we are at Magdalen College
Oxford with the President of Magdalen College Oxford, David
Clary, and the President of the Oxford Union, so three
Presidents and the President of the Oxford Union, Luke
Tryl, is an undergraduate here at Magdalen College Oxford.
I am going to ask President Karzai just to say a few words
for the viewers of the Foreign Office blog.

(President Karzai) Well you don't feel the power of
Presidents until you are here at Magdalen College and see
President Clary, Professor Clary I should say is a better
way of putting it. I have from my younger days been someone
who always fancied being an academic and visiting this
place.


Dr. Foote had been first introduced on Frewin Court to President-Elect Tryl by Alex Just of Trinity College,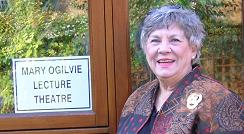 the outgoing Student President of the Oxford Union Society. Dr. Dorothy Gargis Foote (Dottie) returned to St. Anne's, University of Oxford, for a nursing conference in September 2007. And, Luke Tryl -- having ascended to the Presidency in the fall term -- found himself by November embroiled in an international Freedom of Expression controversy that has made news around the world.
Chotank presents BBC Television report on Oxford Union controversy
with news clip of President Tryl, November 2007.
-- Click "play" arrow to begin video display of YouTube stream --
CHOTANK TITLE: BBC news of the Oxford Freedom of Speech debate

(end 5) Engineer Ed Reitan, an IEEE historian, states on his website that a television studio in the Wardman Park Hotel was used from September 1949 to December 1950 to support the RCA/NBC color team in the hearings before the FCC. Wardman Park Hotel was called the Sheraton Park Hotel in the 60s and 70s and in more recent years it has become the Wardman Park Marriott Hotel. NBC installed two color cameras and other color equipment in the Hotel studio, according to About.com frame-layered web pages from Reitan. In the Wardman studio's control room, NBC had hired Spain as an engineer in June 1947, a few weeks before WNBW television station went on the air. After the initial demonstrations, CBS brought its own cameras into this same, cramped Wardman Park studio space to allow WNBW and CBS color teams give the Federal Communications Commission (FCC) direct comparisons between the NBC electronic system and an opposing CBS mechanical system. Reitan writes, "After the FCC rejection of the RCA Dot Sequential Color System, further color camera development responsibility was transferred from RCA Laboratories to the RCA Engineering Products Department (Broadcast Equipment Group) in Camden." [Dr. Avon Edward Foote likes to point out that this facility is in New Jersey and just across the Delaware River from downtown Philadelphia.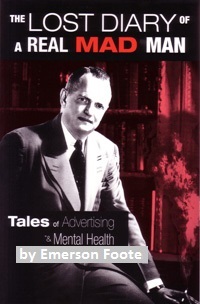 Emerson Foote of Iuka, Mississippi family, but born in Sheffield, Alabama, handled the RCA account for Albert Lasker, friend of General Sarnoff. Emerson was often in Camden for account consultations. After he co-founded Foote, Cone, and Belding, he put himself in charge of the Camden account of The Campbell Soup Company, which sponsored network radio shows. Advertising Age quoted Emerson's 1946 comment that "time has arrived" to make nationwide television an American reality.] Reitan continues with his report on RCA color television advances, "Studio development activity was moved from Washington to the RCA building in New York City." Radio Age has an 1949 article published sometime after 10 October of that year on the start up of demonstrations and early follow-up test transmissions from the Wardman Park Hotel in Washington that is titled, "New RCA Color Television System". An internet copy of the magazine article is available from the www.televisionhistory.tv website. After clicking on website, you will need to scroll to the NBC Peacock to find the recommended article.
Relations with the FCC were also very important to William G. McGowan during the expansion days of MCI and may be one of the main reasons McGowan included Spain in his important project that changed the American telecommunications system forever. Footnotes of an on-line book chapter, relating the entry of MCI into satellite distribution, help gain understanding of the FCC's role in McGowan's defeat of telephone giant AT&T from June 1968. McGowan's regulatory success would have greatly enhanced Frank Kyle Spain's personal finances that lasted until the WorldCom failure. Read Adam L. Gruen, "Net Gain: The Use of Satellites at MCI in the 1980s". Gruen has been corporate historian for MCI. Click for CHAPTER 22 from nasa.gov. Spain exhibits great anger at Bernie Ebbers, former WorldCom CEO, probably because Ebbers brought significant losses to Spain's MCI investment portfolio. Also see John Steele Gordon, "The Death of a Monopoly", American Heritage Magazine, April 1997 (Volume 48 Issue 2). Gordon writes that Jack Goeken had four partners who put up $600 each for the 1963 startup of MCI. A specially-produced DVD from Spain's WTVA shop, presented to the National Academy of Arts and Sciences chapter award event organized for 2005 in Atlanta, states without attribution that Spain is one of the original founders of MCI. Spain gave a copy to Foote in Tupelo in mid-summer 2005. Gordon also pinpoints 1959 as a milestone year for telecommunication change when Spain began his private microwave distribution of NBC Television Network shows between WMCT, Memphis and Tupelo. And, a short time later in 1959, Biddle did the same at WOWL Television by linking Florence to Nashville's NBC network distribution from WSM with an RCA microwave transmitter and receiver. The American Heritage article is online at: http://www.americanheritage.com/content/death-monopoly.
And for a more detailed Mississippi history of UUNET, MCI, and WorldCom go to: 1998 Annual Report Supplement of MCI-WorldCom. To get a superior report, Douglas Gomery has an article on Spain's partner. Read about John Kluge's Metromedia and Kluge's deal with Rupert Murdoch that made the Fox Television Network a reality. In Gomery's bio details on Kluge you will find that he was a director of LDDS Metromedia which became MCI-WorldCom. Gomery writes: In 1995 the Actava Group Inc., Orion Pictures Corp., MCEG Sterling Inc. and Metromedia International Telecommunications Inc. signed an agreement to form a global communications entity to be named Metromedia International Group Inc. Kluge already owned a major stake in Hollywood's Orion Pictures. The new four part alliance merged wireless cable and Hollywood production skills to sell all forms of mass communication to citizens in Eastern Europe and the former Soviet Republics. Securities and Exchange Commission filings, August 2007, show LDDS Metromedia International operating several telecommunication divisions in Georgia, the Czech Republic, and smaller Baltic countries. The Corporation listed its international headquarters at 500 Clanton Road, Beaufort, SC 29902.
William Bazzy, founder of Microwave Journal (MWJ), recalled his move to the RCA/NBC Color Team from WBZ, Boston, during an MWJ interview to chronicle its 50 year history in 2008. The Journal website quotes Bazzy: We were an NBC affiliate station and NBC was owned by RCA. NBC sent me down to New York for a few years to work with David Sarnoff's team that was developing the color television standard for NBC....RCA was engaged in a pitched battle with CBS to introduce color TV. This was a big technical and legal effort that involved David Sarnoff, GE, Westinghouse, the FCC and many others. Through my position at the station, I worked with the technical team that ultimately won the battle and set the standard for color television.
(end 6) The same photo appears in Airwaves, the newsletter of the Library of American Broadcasting Foundation, Spring/Summer 2007, page 7. The issue is focused on the life of Ohio State PhD Frank Stanton, 1908 - 2006. The Footes' Gulf War Video Collection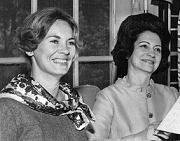 Dr. Dottie Gargis Foote
with Mrs. Fawcett at OSU
where hubby prez in 1970

of over 500 professional format videos has been at the Library since fall 2001. The same Airwaves issue acknowledges the continuing support of the Library by the Footes and includes a listing for the "LAB Gulf War Collection". The Library Foundation offices were co-located in 2006 at the University of Maryland, College Park, where Footes' Collection is housed. The Footes' July 2001 agreement with the University of Maryland, College Park, includes permission to continue the Chotank.com website on the war. The Collection information is at: http://www.chotank.com/desertstorm.html where you will find a link to the U.S. Army publication of the Foote/Foot's communication effectiveness model. The Online Computer Library Center (OCLC), Dublin, Ohio, reports the two-volume book is in over 270 libraries world-wide including the "Army Intelligence Center, FT Huachuca, AZ 85613 United States" and "Combined Arms Research Library, Fort Leavenworth, FT Leavenworth, KS 66027 United States". The Fort Leavenworth copy may be viewed online by choosing the appropriate OCLC link. In the Airwaves issue for Spring 2009, page 10, the Footes are identified as "Avon Edward and Dorothy Garvis Foote". The correct spelling is "Gargis". Charles Osgood's notes reflected the same mistake when he thanked the Footes at induction of LAB Giants of Broadcasting in the Grand Hyatt, New York. Osgood is host of CBS "Sunday Morning".

(end 7) On 12 February 2004, Frank Ahrens, Washington Post staff writer, reported that Les Moonves, president of CBS and supporter of Library of American Broadcasting, U-Md, College Park, talked with Brian Roberts about the television network industry and Disney's ABC at industry dinner a few weeks before the Comcast announcement of acquisition intent. Moonves told Ahrens that he had been surprised to learn of Roberts decision to try a merger with Disney, because Moonves thought he and Roberts were having just friendly table chitchat, rather than an authoritative merger prep. As with Biddle a generation earlier, Moonves graduated from Bucknell University.
---
Quote added to Endnotes: 16 February 2009, 3:10 PM, EST
Beaming his Alpine [New Jersey] transmitter in a great arc at the sky in one of the last high-powered transmissions the FCC would allow him, he [Edwin Howard Armstrong] sent a mobile crew into the South to try to pick up the signal which he had a feeling would be there. And some 1,000 miles away in Alabama, as his hunch had led him to suspect, the crew plucked out of the air, somewhat attenuated but still clear, the signal from Alpine. Later in 1947 he put on a demonstration with Jansky and Bailey, Inc., consulting engineers, from Alpine to the International Telecommunications and Radio Conference at Atlantic City that year. [Armstrong's 400 ft. tower at Alpine was pressed into service again after 9/11 for television transmissions by NBC and several other New York City station owners when facilities in Twin Towers were destroyed by terrorists.]
Lawrence Lessing, Man of High Fidelity: Edwin Howard Armstrong (Philadelphia: J. B. Lippincott, 1956), page 264
[Chris Sterling has used Lessing's book to support a short sketch of Edwin Armstrong for Sterling's own recently edited book: Military Communications. But Sterling's four page explanation of Propaganda and Psychological Warfare is of special interest here. The author/editor lists a two-book source, Ronald McLaurin, et al., eds, The Art and Science of Psychological Operations: Case Studies of Military Operation. Avon Edward Foote's communication vector model is on pages 636 to 642 of Volume II.]
---
These Endnotes for BLOG09 Subjects
Read Endnote #1 to find how the suicide of
of the primary, FM-sound investor would eventually help speed
Spain home from New York to his adopted Mississippi and thrust him
into roles foretelling changes in telecommunication/cable businesses
Comments (3) Comments on BLOG09 Article & Endnotes have been closed.
---
2/11/09
...very interesting stuff. I didn't know much about Spain. I might quibble with your statement that RCA made FCC shift FM upstairs (I really think it's more complex than that as we say in SOUNS OF CHANGE)...also the seeming oddity of the million-dollar payment to Marion Armstrong after EHA's death...she won the patent case and that's where the payment came from. chs
Chris Sterling, professor, George Washington University, is author with Michael Keith of Sounds of Change: FM Broadcasting in America (Chapel Hill: University of North Carolina Press, 2008), and he is the editor of Military Communications: From Ancient Times to the 21st Century (Santa Barbara, Denver, and Oxford, England: ABC-CLIO, 2008).
---
3/25/10
...businessweek.com has a Bloomberg article today that reveals sexy and qualified additions to the 2010 FCC administration. Rear Admiral James Barnett is the new head of Public Safety and Homeland Security Bureau. Barnett, an attorney from Tupelo, Mississippi, is quoted by Bloomberg. aef
Avon Edward Foote, PhD, is professor emeritus, University of North Alabama. He has researched and reported the Comcast startup in Tupelo since 2005.
---
10/28/10
...As Tupelo attorney Barnett represented the Mississippi school boards of Tupelo, Aberdeen, and Tishomingo County. Barnett is married to Celia Grisham, a Foote/Foot descendant from Iuka. Celia is the daughter of Lowell Grisham and Jo Ann Reid Grisham, and grew up in Oxford, Mississippi. The Doctors Foote/Foot attend Trinity Episcopal Church, Florence, Alabama, with Jack (Buddy) Reid, the uncle of Celia Grisham Barnett.
See Navy info on Jamie Barnett at:
http://www.navy.mil/navydata/bios/navybio.asp?bioID=37
You can read Barnett's personal statement on his Navy service before and after spending several years as Tupelo, Mississippi attorney. It is part of his presentation of an FCC proposal for a national broadband emergency system (ERIC). Click for remarks to Police Executive Research Forum.
...Michael Socolow has the most significant article on the research contributions of Frank Stanton, Ohio State graduate. "The Behaviorist in the Boardroom: The Research of Frank Stanton, Ph.D." appears in Journal of Broadcasting and Electronic Media, Volume 54 (December 2008). I discovered the documentation of Stanton's development of the rating services' audience meter in field tests in Columbus, Ohio, while on fourth floor of Gorgas Library, University of Alabama, Tuscaloosa as I waited on Dr. Dottie. Yesterday, she attended meeting on University of Alabama system, new doctor of nursing degree in College of Nursing building. aef
Avon Edward Foote, PhD, is professor emeritus, University of North Alabama. He has researched and reported the Comcast startup in Tupelo since 2005.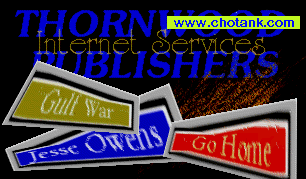 Buttons above in THORNWOOD logo are Clickable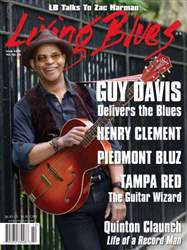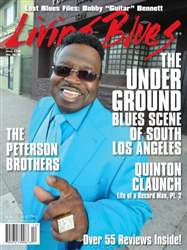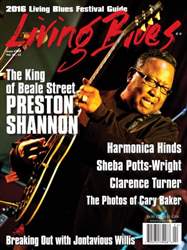 Living Blues mags from 2015 & 2016 used text and image material
from this Chotank.com webpage to prepare featured article about Quinton Claunch
for issues #239 and #240. Corrections for footnote appeared in issue #242.

The original Blog09 web article and endnotes were
Copyright (c) 2005-2010
Reviewed &nbsp. Revised &nbsp. Refreshed 23 July 2016 Our 21th Year